Model Jessica White Pens Emotional Message Reportedly To Ex Nick Cannon: 'I Gave Eight Ride Or Die Years To You'
The message implied that the television personality is upset that White joined the cast of 'Love & Hip-Hop: Atlanta'.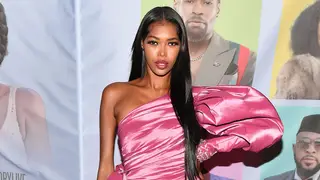 Model Jessica White is one of the newest members of the Love & Hip-Hop franchise, and one of her exes may not be too happy about it, according to the Jasmine Brand.
In a lengthy post reportedly to her ex, Nick Cannon, White shared her feelings about being added to the cast.
"Tried to reach out to you but here's my book @nickcannon I know you're upset about the show but after eight years I can't stand when things catch you off guard and I feel like you deserve way more respect as a man even though I may be more respectful than you ever gave me With public announcements," White began.
"Lol I have loved and I gave eight ride or die years to you With my head high and heart praying you'd see me the way I deserved. I wanted it to work, prayed every day that you'd see me and love me the way that I loved you. Maybe you did but just kept it from me during the relationship. I walked away with more questions than anything, I don't know till this day really why current things had to happen."
At one point, White breaks from addressing Cannon directly and addresses issues they each had writing, "the truth is NC and I were both beautifully broken when we were children and didn't know how to love each other. Instead we hurt each other. Instead we learned how to hurt each other and found peace with who and what we were doing and it wasn't healthy for anyone involved. We were the perfect storm for each other and no one would back down."
The 38-year-old actress and model goes on to say that she is in a new relationship, adding, "And for the first time since I fell in love with you years ago I find myself being extremely happy and hopeful and I liking a boy who makes me smile like a little girl. It's new to me And I love that I'm feeling excited again and not scared or blocking my own happiness. thank God!"
White ended her missive with a note directly to Cannon writing, "@nickcannon nick we did our best and that's enough for me"
According to The Jasmine Brand, the couple had been together for eight years and during an appearance on Hollywood Unlocked, Cannon called White his "muse," adding, "That woman has overcome so much and is just a light and an angel to so many, who operates on a higher frequency."
The new series "Love & Hip Hop Atlanta: Run it Back" premiered on Tuesday, May 2 (5/2/2023) at 7 p.m. ET on MTV.