Gucci Mane's 'Trap House III' Encapsulated Atlanta A Decade Ago
Released on May 21, 2013, the album featured heavy-hitters from around the country and a mean title track single.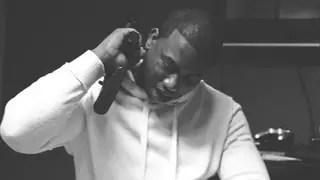 10 years ago, things were very different. DatPiff and Livemixtapes ran much of hip-hop's distribution, while blogs were still relatively influential in helping fans either find new music or locate that of the artists they already loved.
It was also an interesting time for Gucci Mane as he was at a crossroads in his career. We widely think of him as a legend of the culture – one who was highly influential in not only the sound he began ushering in during the mid-2000s, but also the artists he was responsible for putting on shortly afterward. Would Atlanta be quite the rap powerhouse it is now without Guwop?
But in 2013, Gucci's name would be in the headlines, and not much of that was positive. In March of that year, he was arrested on charges of aggravated assault after allegedly attacking a fan who attempted to get a picture with him at an Atlanta nightclub. Six months later, he would be the subject of more legal trouble and personal turmoil.
On September 9, the rapper went after just about everyone via Twitter in an extremely bizarre rant and Tyga, French Montana, Young Jeezy, T.I., Yo Gotti, Waka Flocka Flame, Drake, 2 Chainz, Keyshia Cole, Eminem, Migoss, Rocko, Mariah Carey, Iggy Azalea, Ciara, and even XXL Magazine Editor-in-Chief Vanessa Satten, among others, were the target of unsupported conspiracies he was conjuring up. Later that month, he would be stung by the law again, as he was hit with numerous charges, including firearm possession by a convicted felon, disorderly conduct, and carrying a concealed weapon after a friend called the police over claims of erratic behavior Gucci was displaying late at night.
Suffice it to say, it was a tough time for Gucci Mane, but music and his personal growth would eventually return him to prominence. On May 22, 2013, the East Atlanta rapper released Trap House III, a sequel to his fourth LP, 2007's Back to the Trap House and one of the most ambitious expansions of his sound since 2009's The State vs. Radric Davis, which had him splitting production between the then-heavily employed Lex Lugar and the sonics of 808 Mafia's Southside who was on his come-up at the time.
Trap House III begins with its most infamous song. This title track features production by Gucci's now-established protogé and his duo partner TM88 who adorned the song with keyboards that accentuated one of the most defining beats of the time. It's also gifted with one of Rick Ross' most memorable guest verses of his career.
The rest of the project had highlights, featuring hits like "I Heard" and the Chief Keef-enlisted "Darker." But perhaps one of the most memorable elements of it was the intersection it represented in both the ATL and hip-hop nationally at the time. Throughout the 17 tracks on Trap House III, artists like Rich Homie Quan, Shawty Lo, Young Scooter and Peewee Longway – primarily known for their heightened fame during that era – mixed with more up-and-coming artists like Keef, Young Dolph, and even a budding Young Thug, who was so early in his career at that point he went by the moniker "Yung Thug."
Essentially, it was a snapshot of Southern hip-hop a decade ago. In regards to Gucci's redemption outside of music, he would eventually serve a two-year bid due to his September 2013 transgressions. In 2016, he was released from incarceration visibly lighter in stature and healthier. A year later, he married his longtime girlfriend Keyshia Ka'oir during a ceremony that was televised on BET, dubbed The Mane Event.
In modern days, Gucci Mane is the legend he's billed as. Having been a key figure in popularizing trap music almost 20 years ago, he's since put on not only the artists featured on Trap House III, but so many others, including Waka Flocka Flame, Future, Migos, Asian Doll, and Pooh Shiesty. The Gucci effect was and remains real to this day.
Listen to Trap House III below.