Snoop And Master P Forced To Change The Name Of A Breakfast Cereal
Find out why Snoop calls it "a minor setback for a major comeback."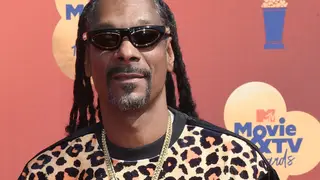 Snoop Dogg and Master P are fighting back after a competitor ordered them to change the name of a breakfast cereal distributed by the duo's Broadus Foods label.
The breakfast cereal, Snoop Loopz, was stripped of its name after complaints from an unnamed competitor, according to Rolling Stone. The marshmallow-filled cereal represented the pair's toe dip into the breakfast industry takeover, the report notes.
"So they don't want us to use Snoop Loopz on our cereal box even though that's my name," Snoop wrote in the caption of an Instagram video. "We've built a national brand and disrupted the cereal industry, we did it with hard work and integrity. I know they're uncomfortable and scared."
While they did not name the competitor, the report notes that they likely felt pressure from Kellogg's, which has owned the Fruit Loops brand trademark since the eighties. The Snoop Loopz label feature Captain Ace, a Jolly Rancher-blue Siberian husky, as the brand mascot, the report notes.
According to the cereal's website, a portion of all sales from Broadus Foods purchases – ranging from cereal, oatmeal, and grits to pancake mix and syrup – support charities for homelessness and needy families, like Door of Hope, the report says.
"Our mission is to build diversity and economic empowerment," Snoop wrote on Instagram.
Still, the duo does not plan to give up, writing on Instagram, "They can't stop us. It's David versus Goliath. @masterp and I got the slingshot. This is a minor setback for a major comeback. #GodsPlan What do YOU think we should name our new cereal?"