BET Awards '20: Highlights of Lil Wayne on the BET Stage
The New Orleans native is set to perform at the 2020 BET Awards.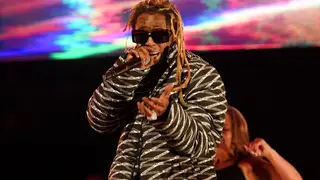 Lil Wayne came into the national spotlight as a teenager, but now that he's knocking on 40, he's not so "lil" anymore and he's set to take the stage at the 2020 BET Awards. You'll have to tune in on June 28th at 8 pm EST to find out what Tunechi has in store for fans.
He has a stacked discography to choose from ("A Milli," "Lollipop," "6 Foot 7 Foot," etc) but he also released his latest album Funeral in January of this year. We also can't forget about the numerous hit songs from other artists that he has been featured on over the years.  Lil Wayne has done so many features, there are lists that rank his best ones.
Winner of eight BET Awards and 16 BET Hip Hop Awards, Lil Wayne has a long history with the network. His first BET Award nomination was in 2005 for his verse on "Soldier" by Destiny's Child. Below are three of the New Orleans native's most memorable moments from the recent past.
DJ Khaled and Friends

Every DJ Khaled performance feels like a party and nothing is better than partying with friends. At the 2017 BET Awards, DJ Khaled pulled out all the stops. The stage turned into a yacht named after his son Asahd (the little cutie even came to rock out with his dad for a bit). The super producer brought out Quavo, Chance the Rapper, and lastly Lil Wayne to perform his hit song "I'm the One." It was definitely a bromance moment that had the whole crowd enjoying the peaceful, fun vibe.

Gratitude

Lil Wayne received the I Am Hip Hop Icon Award at the 2018 BET Hip Hop Awards. Flanked by his mother and his oldest daughter, the New Orleans native recounted the time when he was 12 years old and attempted to kill himself. Someone saved his life. "There's a man in New Orleans, his name is Uncle Bob. He came into an apartment one day. He bust in the door, guns drawn, he saw nobody. He saw legs on the floor. It was my legs. He saw blood everywhere. Bunch of police hopped over me. He refused to do so. I never knew, I talked to him the other day, I never knew EMS was on the scene," he said during his heartfelt speech. Weezy F. Baby reiterated his gratitude for Uncle Bob and recognized that he would not be alive were it not for that man's efforts.

Battle Rapping Kevin Hart

Battle rapping is a sacred art in the world of hip hop. It can make or break reputations and going up against an imaginative lyricist like Lil Wayne is daunting. But at the 2016 BET Hip Hop Awards, Kevin Hart (aka Chocolate Droppa) went toe-to-toe with Wayne. Hosted by DJ Drama, the "battle" didn't last too long. Weezy rapped about women, drugs, Hurricane Katrina and the like. Chocolate Droppa talked about Sloppy Joes and duffle bags and by the end, somehow Lil Wayne became the hypeman. Hip hop isn't always super serious.