Fashion Fridays: These Fashion Moments Have Us In A Choke Hold
Fashion Fridays are our way of honoring the looks that shook us to our core and immediately had us saving for our next outfit inspiration!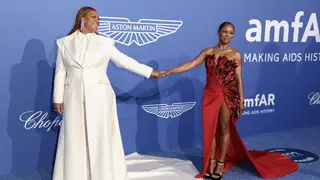 Fashion Fridays is our way of honoring the looks that shook us to our core. Outfits that made us say, "YASSSSS you better work!" and immediately had us saving for our next outfit inspiration. Sure these celebrities have access to incredible stylists and designers, but somehow we all hope to find something similar at our local Zara, H&M, or thrift store. Today we honor the outfits that remind us to level up our personal style and make fashion fun again. Here are the looks that deserve all the flowers.
EJ Johnson in Chanel

The way this casual Chanel post had us in a chokehold is wild! EJ Johnson absolutely stole our hearts in this casual Chanel look. On his Instagram page, he is seen wearing a white Chanel button-up shirt with not one but two classic Chanel bags! Of course, the fashion icon himself didn't stop there. He took us all the way out when he added a simple black Chanel holder to bring the two bags together.

Lori Harvey in Dior

Lori gave body body body in this Dior swimsuit while on vacation with her bae Damson Idris. The Dior swimsuit was all black with a deep neckline showing her incredible tan. It's only right that we mention the detailing this one-piece swimsuit absolutely gave! It came with a gold Dior logo that carried into a black belt with gold detailing around Lori's waist. Lori also didn't shy away from adding her own personal style to the look, putting on gold bangles, black sunglasses, and a cowgirl hat!

Queen Latifa in Lanvin

Queen Latifa stepped into her true queen power in this all-white suited dress by Lanvin. She wore the look on the red carpet in preparation for hosting the amFAR Gala. Queen and Leonardo Dicaprio raised $17 million dollars for finding a cure for HIV and AIDs. We love baddies fighting for a cause and making fashionable appearances. The suit was all white with a beautiful cape that effortlessly glided as she made her way down the carpet. She paired the outfit with classic diamond earrings and sleek hair, letting the outfit make a statement. Stunning!

Winnie Harlow in Ramzen Couture

Winnie Harlow didn't have to do us like that when she stepped out in all-white for the amFAR gala. Miss Winnie dared to step out in Ramzen Couture; the dress had our jaws on the floor. The dress had an off-the-shoulder design that hugged the model's body and ended with a sexy slit. On the left shoulder, the dress ruffled out, adding a sweetness to the dress that honored Winnie's spirit. She wore white pumps and she dripped in diamonds. Each diamond piece had a glint of yellow gold adding just a hint of color.

Slick Woods in Fendi

Slick Woods was giving us true FOMO in the red Fendi boots. The model posed with her leg slightly kicked up, showing off the statement boots. These boots aren't made for walking! They're made to make a statement! Fendi designed these leather 100mm knee-high boots for fashion enthusiasts to paint the town red. If you're looking to get a pair of these sexy knee-high boots, then you should probably start saving your coin. These Fendi boots are going to run you a hard $1,158, according to LYST.

Halima Aden in Valentino

Halima says, "I'm back!" in Valentino. After taking a three-year hiatus, the model returns to the modeling world! In Valentino, duh! She thanked Maison Valentino for dressing her in this beautiful couture dress. Valentino truly gave vibrancy with this wonderful design. The dress gave an abundance of fun feathers and flowed out to a ruffle train! Halima wore the dress with a traditional nude hair wrap, blue eye shadow, and a purple bow that sat at the front of the dress. Despite the bright colors, nothing was brighter than the model's smile. Halima's smile brightened up the room while rocking this wonderful couture dress.

Storm Reid in Prada

Storm Reid took to her Instagram to show off this old Hollywood-inspired glam by Prada. The off-the-shoulder dress was reflective of the actress's body and had a small train. However, what really sold this old Hollywood glam look was her makeup. She stunned in a beautiful red lip and Cateye by Maybelline. Her hair was pinned up into a perfect old Hollywood bun, and most importantly, she added silver diamond earrings with a ring to match. Okay Miss Storm Reid! We see you!

Alek Wek in YSL

There's nothing like a little black dress! Alek Wek wore this simple black attire in the south of France on her way to the amFAR Gala. The dress hugged the models slim figure and draped all the way down to her toes—a simple dress in the front but an absolute party in the back. A beautiful u-shaped opened up at the back of the dress showing off Alek's back. The dress didn't stop there as it also had a hidden slit that carried up to the knee on the side of the dress. YSL, you really outdid yourself with this one!

Zaya Wade in JW Anderson

Zaya looks absolutely adorable in this JW Anderson outfit. She shared an Instagram photo with the caption, "When the film turns out." while wearing an oversized yellow shirt that cut off at the shoulders. A white flared white skirt that sat at the knees complemented the outfit. She then paired this innocent look with black kitten heels and ankle white socks. The look and the film photos show that Zaya is living unbothered in a teenage dream. We're here for all of it!

Laverne Cox in Dior

Dior continues to keep on giving with their swimsuits. In honor of her 51st birthday, Laverne Cox wore a vintage Dior one-piece bathing suit. She gave legs while rocking the denim-appearing swimsuit on her Instagram page. Laverne also brought her good friend Mugler into the mix by rocking a colorful fur coat from his 1985 collection.  A cute swimsuit is always a good idea, but a cover-up to keep you nice and warm is always favored. What a fun combination to honor such a special decade!