Tyrese Gibson Says His Mom Is In a Coma With COVID And Pneumonia
The 'Fast & Furious' actor has since arrived to his mother's ICU unit to be by her side.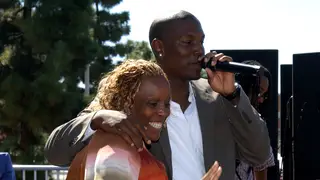 Actor Tyrese Gibson is calling on his prayer warriors to cover his mother who is in a coma with COVID and pneumonia.
Heading to his Instagram on Saturday (Feb. 5), the Fast & Furious actor shared that he received a call while filming on set for an undisclosed project that his mom, Priscilla Murray, was fighting for her life in an intensive care unit.
The 43-year-old explained that his mother's illness has been an uphill battle for a week before he invited his fans into his personal life. However, he said that the reason for posting was to ask for everyone to surround his mom with prayers.
"I need prayers, the most sincere prayers from you prayer warriors…. Hold on mother[,] I'm there by your side in a few days… God is able to do things, he's pulled you OUT of a coma before… Oh God I seen the light[,] things have been going so well… Now this…," he captioned his IG post in part.
Adding: "I feel helpless and need my prayer warriors to cover my mother. Please, please keep her father God she's got so much more to do... Amen… I'm her Baby Boy[.] I don't know if I will be able to handle this one."
In a few follow-up posts on Monday (Feb. 7), Gibson shared a photo that he had arrived outside his mother's hospital room and thanked his fans for their "outpouring prayers[,] love and energy."
He also uploaded a 15-minute video to give his 15.2 million followers updates on Murray's health status.
"If I can ask you for prayer I can also give you some good news about these blessings in progress… If you don't know you will know after you see this Jesus is real!!! 6 mask got my ears screaming…," he captioned the post.
"She is in what's called an induced coma. They had to put her in a coma, just to make sure she was relaxed, while they are giving her all these medicines to help fight pneumonia and COVID." he explains in the video. "As I am sitting here, what I want to tell you guys is that the Lord Jesus Christ is responsible for every breath that I see entering into my mom[']s body right now."
It's unclear when Murray first contracted the coronavirus.