Georgetown Study Shows Racism Erases Black Girls' Childhoods Due To 'Adultification'
Almost all the girls said teachers and other adults "treat them more harshly and hold them to higher standards than white girls."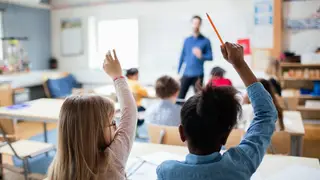 For this study, Black girls and women between the ages of 12 and over 60 were placed into focus groups in cities around the country.
Participants in the groups discussed how they felt they were often treated differently than white girls of the same age.
"[To] society, we're not innocent. And white girls are always innocent," one participant said in the study.
In The Classroom

When it comes to their experiences in academic settings, participants reported feeling teachers often described them as being "loud, aggressive, and angry."

"They always feel like you're talking back, but you're really not. You're just trying to defend, like get your side across," one participant said.

According to the study, Black girls are suspended five times as often as white girls and are nearly three times as likely to be placed in the juvenile justice system.

"[There's] this idea that, like, punishment is the best way to respond … when Black girls … make a mistake," said another participant.

Jamilia Blake, co-author of the report, told Jezebel, "Almost all the Black girls and women we talked to said they'd experienced adultification bias as children."

"And they overwhelmingly agreed that it led teachers and other adults to treat them more harshly and hold them to higher standards than white girls," she added.

Sexuality

Outside of school, Black women are often labled as "hyper-sexual," even when they are minors.

During one focus group, participants spoke about how they were often assumed to be sexually active.

The report explained how Black women are often made to feel like a "caricature of the 'Jezebel,' which portrays Black women as promiscuous."

"I sense it's a slavery perception when it comes to [Black girls] …. Back in the day …young women were sold because of their bodies or what they had, and I think with the culture and certain people and—and political rants have been bringing back these—these notorious ideas, um, it's just bringing slavery back with a different face," one older participant said.

One Black woman said while she was in sixth grade, the school nurse asked if she was sexually active.

"And I was, like, at the time, like, what? Like, what? Nobody has sex. Like, I didn't know anyone that had sex. And it was so crazy to me. And then just thinking, like, she would never think to ask my [white] friend that," the participant said.

Other findings in the report

In addition to the examples from the classroom and in sexuality, the report also found Black women are also pressured to exhibit white ideas of femininity and beauty.

"[I]n so many ways we're told to be smaller, quieter, lighter, prettier …. You see that play out in middle school a lot." Blake argues that "adultification bias is a major contributor to these disciplinary disparities."

Some of the women felt they never had an opportunity to truly express themselves as children.

"When you're a Black girl, they want you to just be there and—and they barely want you to be there, but they just want you [not] to . . . stand out, whereas white girls get that privilege where they [do]," one participant in her 20s said.

How do we fix it?

During the study, the girls and women were asked to propose solutions to help stop the same process of adultification they experienced.

Although some suggested training teachers in racial sensitivity and similar solutions, most of the participants had doubts the study would create any real change.

"You can't stop somebody from being racist with data," one participant said.