Who's The G.O.A.T. Rap Crew? GOOD Music vs Shady | Round 2
In the tournament to decide the greatest rap crew of all time, this Round 2 battle is a Midwest matchup between GOOD Music and Shady.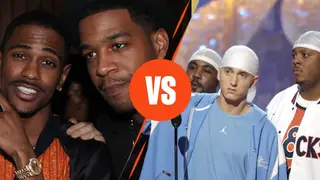 In recognition of hip hop's 50th anniversary, BET Digital, in partnership with Ambrosia For Heads, is celebrating the culture by hosting a bracket-style competition that allows you to determine hip hop's greatest crew.
Rather than having "experts" tell you who is the greatest of all time, this is your opportunity to collectively make that decision. After giving the opportunity to any and all fans to provide feedback on which crews should be included, 32 collectives from different regions, styles, and generations have been selected—all vying for that #1 spot. When the final battle is over and the last vote is cast, you will have determined who is your Greatest Rap Crew of All Time.
In this celebration of hip hop and all of its talented crews, your vote decides the winner, so vote below.
GOOD Music vs. Shady | Round 2
Throughout the 2000s, two hip hop superstars assembled crews that proved built to last. Eminem's Shady Records squad and Kanye West's G.O.O.D. Music recruited talent from around the country and displayed fast-forming chemistry through collaborations and compilations. Years after West produced for D12, Kanye and Eminem eventually joined forces for the chart-topping, BET Award-nominated "Forever" super collab. In the following years, Big Sean made songs with Em and Royce 5'9". G.O.O.D. Music defeated the St. Lunatics in Round 1, while Shady bested Bone Thugs to reach this round. After reports that Eminem once considered dissing 'Ye and others, there have been previous perceptions of a rivalry between these figureheads. Instead, these crews have coexisted and made history together. In this tournament, only one Midwest juggernaut can advance to Round 3.
G.O.O.D. Music
(defeated the St. Lunatics in Round 1)
Kanye West's G.O.O.D. Music crew shared a combined goal of Getting Out Our Dreams, and did just that. In addition to being a record label that has supplied albums by Big Sean, Pusha-T, Kid Cudi, Common, Consequence, and others, the crew includes talented acts from around the country, including 2 Chainz, CyHi The Prynce, Yasiin Bey (pka Mos Def), Desiigner, and more.
At the center of the action is a superstar producer/artist who has utilized the creative ensemble for nearly 20 years. From early rallying cries like "Grammy Family" to the six-times-platinum "Mercy" and "Don't Like," G.O.O.D. thrives off of crew energy. 2012's "Cruel Summer" repped the brand in grand fashion. Through crew association and West's oversight of albums, G.O.O.D. added new chapters to veterans Common and Pusha's careers with Grammy-nominated albums in "Be" and "Daytona," respectively.
The crew mentored would-be stars in Big Sean and Kid Cudi and regularly integrated them into collaborative work with the vets. West has co-produced several of Sean's biggest hits, while Common narrated and guested on Cudi's acclaimed debut. The crew members were integral to 2018's summertime run of Kanye-produced projects recorded on retreat in Wyoming, including Pusha-T and a Kids See Ghosts collaboration between 'Ye and Cudi. Though the cast has rotated periodically, through the years, G.O.O.D. artists have come together to achieve greatness.
Shady Records
(defeated Bone Thugs in Round 1)
Eminem stepped in to become one of hip hop's new leaders at the close of the 20th century. Incredible flows, rewind-worthy punchlines, and outlandish videos set the former battle rapper up for success with his major label debut. "The Slim Shady LP" emphasized bringing like-minded talent into the industry with Em, including his Bad Meets Evil brother Royce 5'9". By the top of Y2K, Eminem used his platform to spotlight D12—a band of Detroit rap misfits (including Em) who shared his bumpy road to stardom and commitment to lyricism.
Shortly after this time, Marshall Mathers sought out another Royce-staked project in Slaughterhouse, as well as Alabama's Yelawolf, and others. Shady embraces supergroups and provides fans with surprise releases and requested rap combinations. Throughout the Shady crew, artists seemed to embrace the struggle, inner darkness, and undying will to win. In doing so, this crew put technically-advanced lyricism back in the spotlight. More than label signings, Shady routinely used show-stopping BET Awards cyphers, collaborations, and compilations to show that regardless of region or style, these artists shared a common cause and a belief that underdogs can eventually reach the top.
---
EDITOR's NOTE: Register for the sweepstakes for a chance to win the grand prize of two (2) tickets to the 2023 BET Awards, two (2) round-trip airline tickets, and a 2-night hotel stay on June 25. Up your chances to win by voting weekly.
NO PURCHASE NECESSARY TO ENTER OR WIN. VOID OUTSIDE OF THE 50 U.S. & D.C. AND WHERE PROHIBITED BY LAW. Open to legal residents of the 50 U.S. & D.C. who are 18 years of age or older at the time of entry. Ends at 12:00 p.m. ET on May 1, 2023. Official Rules: bet.com/grcoat-official-rules  Sponsor: Black Entertainment Television.