Simone Biles, U.S. Women's Gymnastics Team Opt Out Of Olympic Village Accommodations
They'll be staying at a nearby hotel for safety reasons.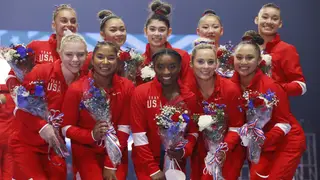 For safety reasons, the U.S. women's gymnastics team will not be staying in Tokyo's Olympic Village.
According to the coach of Simone Biles and Jordan Chiles, the team will be staying at a nearby hotel instead. The confirmation of the news came a day before a member of the team tested positive for COVID-19.
"It was also a decision that we all made together," coach Cecile Landi wrote on Twitter Sunday (July 18). "We know it isn't ideal during a pandemic. We feel like we can control the athletes and our safety better in a hotel setting!"
According to NBC News, USA Gymnastics said on Tuesday the squad had always intended to stay at a hotel instead of the sealed-off, waterfront section of Tokyo reserved for the 11,000 athletes competing in the Games, which begin on Friday.
Kara Eaker tested positive for the coronavirus at training camp in Narita, around 30 miles east of the Japanese capital. Both Eaker and fellow alternate, Leanne Wong, have been placed in quarantine.
"Tokyo 2020 is not in a position to comment on individual team's performance decisions," the organizing committee said in an email to NBC News.
The Olympic Games are slated to go through even though Japan is in the midst of a much more serious outbreak of the pandemic compared to the United States. Just 22.4 percent of Japanese are fully vaccinated, according to the latest statistics.