After Bitter Scandal, St. Louis Landmark Sweetie Pie's Attempting A Comeback
The last storefront closed in September 2022 in the midst of one-time owner Tim Norman being imprisoned.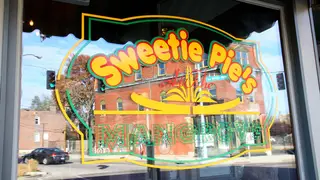 St. Louis-based soul food restaurant chain Sweetie Pie's, made famous by the OWN Network reality show "Welcome To Sweetie Pie's" is trying to make a comeback after its location Sweetie Pie's Upper Crust closed in September 2022. The closure came after owner Robbie Montgomery's son and former partner Tim Norman was sentenced to life in prison. But developers have now submitted a plan to the city for the restaurant's second coming.
According to local station KMOV,  a plan to initiate a new eatery called Sweetie Pie's 2nd Act was submitted to the city's Land Clearance for Development Authority for review on May 23.
The revived restaurant chain is looking to find a home in North St. Louis across the street from the Urban League of Metropolitan St. Louis. Montgomery plans to invest $3.7 million into the new location and create as many as 25 new jobs. Montgomery's first restaurant opened 25 years ago.
"It'll be a place where people can just--not just get to-go orders, but also sit down, rent out space. We want it to be top-notch," said Michael Holmes with the economic development branch of Urban League. "We also want to be a tool for redevelopment for the entire area, which would be part of north St. Louis. ArchWell [Health] has come in. We're looking to add more stores."
Norman, 43, was known for his appearance on the reality TV series "Welcome to Sweetie Pies." The show followed a family who managed a famous local soul food restaurant. Tim and his nephew, Andre Montgomery (Robbie's grandson), starred in the show.  The show premiered in 2011 and ran for a total of five seasons.

"Welcome To Sweetie Pie's" ninth and final season ended June 9, 2018.
But things turned tragic when Montgomery, 21, was killed outside of a St. Louis apartment complex in 2016, an incident depicted during the series' fourth season. Prosecutors said Norman took out several life insurance policies on his nephew totaling more than $450,000 and attempted to cash in the policies just days after his death. At trial, witnesses testified that Norman paid Travell Anthony Hill, $5,000 to kill his nephew and $10,000 to an exotic dancer, Terica Ellis, to lure Montgomery to his death.

RELATED: Man Accused Of Killing 'Welcome To Sweetie Pie's' Reality Star Pleads Guilty

Norman denied having anything to do with his nephew's death. "I'm still in disbelief," he said. "The feds knew 100% I did not do those insurance policies. But the jury didn't get to hear that," he said in a Feb. 23 Instagram post. "And not one person got on the stand and said that I told them to hurt my nephew. They destroyed my name and image so you guys wouldn't search for the truth."

In September 2022, Norman was found guilty of conspiracy to commit murder-for-hire, murder-for-hire resulting in death and conspiracy to commit mail and wire fraud.   A federal judge sentenced the former reality star to life in prison on March 2.