We Bet You'll Relate To These 5 Summer Walker Lyrics
She can sing, and she can play, but it's her word power that kills us.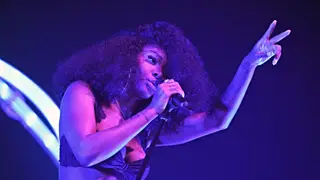 From the moment she caught our ears in 2018, Summer Walker has written the kind of honest, conversational, and memorable lyrics that etch themselves into your mind and won't let go. The soft spoken Atlanta native first built her platform by singing covers and playing guitar on YouTube, while also running a small cleaning business and doubling as an exotic dancer. Along the way, she poured her pain and pleasure into deeply personal songs that resonated with lovers and dreamers around the world.
Now, it's hard to scroll social media without seeing a quote from Summer's lyrics. That's why she just got her second straight nomination for "Best Female R&B/Pop Artist" at the 2021 BET Awards, a year after being nominated for "Best New Artist ." We'll soon see if she'll take home a trophy, but in the meantime, let's dive into five Jazmine summer tracks with the most quotable lyrics.
"Girls Need Love"

On her 2018 breakthrough single, "Girls Need Love," Walker wastes no time singing what many ladies couldn't have expressed better themselves: "I just need some d***/I just need some love/Tired of f***ing with these lame n****s baby/I just need a thug." Countless Twitter quotes and thirst trap captions later, Walker's words are resonating with a new generation of R&B fans who appreciate ladies who don't ask us to pardon their French. Drake was also impressed with her pen game, reaching out to lend his services to the track's remix and instantly catapulting Walker to star status.

"Come Thru"

Walker and Usher tore down the BET Awards stage last year with a live performance of this generation-bending remix. Whether you first fell in love with Usher's classic 1997 original "You Make Me Wanna…" or Summer's 2019 flip, the final result of this remix proves that music is the closest thing we have to a time machine.  Lines like: "You did somethin'/cause s*** like this don't happen too often/It's the way you put it down/I don't want no one else around," don't reflect the kind of romance that made it to airways in Usher's day, but fans today have shown that they can't get enough of Walker's way with words, rawness and all.

"Playing Games"

We've all been hurt by broken promises. Summer Walker harnesses that pain and puts it into words on this standout from her 2019 album Over It.  "I'm just trying to match your words with your actions/I need more than satisfaction/Is you really 'bout that action?" There's no counting how many times those lines were texted or DM'd to lazy lovers around the world. Whether you're a giver or a taker in relationships, you should know it's code red when this lyric is scrolling down your screen. 

"Just Might"

Tired of emotional rollercoasters, Walker wonders if in order to stop losing at love she has to start playing a different game altogether.  "Keep playing, love is a losin' game/And I just can't take no more, no more/That love is a losin' game, so I just might be a hoe." The lyric's not a bold statement in the sex positive world we currently live in, but always the rebel, Summer wasn't playing any games with her word choice. When you break it down, this line isn't just speaking to fed-up women out there, it also checks the fellas not treating them right.  

"I'll Kill You"

They say love is a drug. And when we're strung out, there's no place we're not willing to go for a fix. When she sings,"Cause baby, I'm caring 'bout you/Ain't playing no games 'bout you/I'll go to hell and jail 'bout you, boy," she continues her trend of making toxic love sound serene. Summer vows to go through hell, high water, and the criminal justice system for her man with the help of fellow "Best R&B/Pop Artist" nominee Jhené Aiko. Whether you take these lyrics as a threat or promise of lifelong loyalty, we can't say we've never felt the same way, or close enough. At the end of the day, whether we're breaking up or making up, Summer's pen transports us to a place where meaning and emotion are vivid, raw, and real.

Watch the 2021 BET Awards on June 27 at 8/7C p.m.