Verzuz Battle: Here's The Stats From Monica And Brandy's Record-Breaking Session
More than six million people tuned for the Instragam broadcast.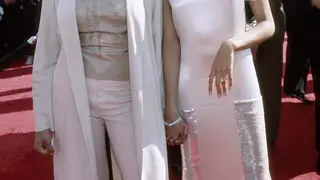 According to the latest numbers that Swizz posted to his Instagram on Wednesday (September 2), more than six million people tuned for the Instragam broadcast, which was also simulcast through Apple Music as part of their partnership. 

Furthermore, the battle raised more than $250,000 for Michelle Obama's When We All Vote initiative, and generated five billion impressions worldwide across social media. There were 1.9 million tweets, including one million in the U.S. alone, making it the most-tweeted about Verzuz battle ever. 

Swizz celebrated the historic moment in the social post's caption."Thank you. These [two] R&B Queens deserved this," Swizz praised. "Congrats [Brandy] & [Monica]. BROKE THE RECORD. History was made by the people #Verzuz." 

In a further testament to the growing reach of Verzuz, both Brandy and Monica's catalogs have surged up the Apple Music charts. Immediately after their Verzuz battle, three of Brandy's albums skyrocketed into the top ten. B7, Never Say Never, and Full Moon, jumped to the No. 1, No. 4, and No. 8 spots, respectively. 

Meanwhile, Monica's Miss Thang and The Boy Is Mine clocked in at the sixth and ninth position. Overall, more than a combined 10 of their albums re-entered Apple Music's Top 40 R&B & Soul Albums chart. Over on Apple Music's Top 40 R&B & Soul Singles chart, 30 out of 40 songs were Monica and Brandy's.

"The #VerzuzEffect in REAL-TIME‼️" Swizz wrote of the feat. "The power of the people made this possible for these [two] Queens. THE CULTURE WINS‼️‼️‼️ This is Biggggggggggggg!!!!!!"

During the Verzuz match, both Brandy and Monica noted the importance of their reunion. 

"People need this music," Brandy said of their Verzuz. "People need to see us together. People need to see unity and celebration."

Check out the stats below.