Obama Keeps It Real in Remarks About Trayvon and Zimmerman
Obama spoke from the heart as an African-American man about Trayvon Martin, the Zimmerman verdict, racial profiling and Stand Your Ground laws.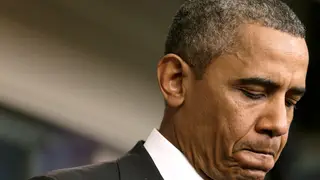 "When Trayvon Martin was first shot, I said that this could have been my son. Another way of saying that is Trayvon Martin could have been me 35 years ago," Obama said. "And when you think about why, in the African-American community at least, there's a lot of pain around what happened here, I think it's important to recognize that the African-American community is looking at this issue through a set of experiences and a history that — that doesn't go away."
Obama recalled how before he became president, like most African-American men in this country, he was not immune to "hearing the locks click on the doors of cars" as he approached or "a woman clutching her purse nervously and holding her breath" after he'd entered the same elevator.
It's those kinds of experiences, he said, that inform how the Black community interpreted and responded to that fatal night when Martin met Zimmerman.
African-Americans are not "naive" about the fact that young Black men are "disproportionately involved in the criminal justice system" as both "victims and perpetrators of violence," the president acknowledged, but it's also important to recognize how the nation's racial history and the resulting poverty and dysfunction have contributed to that.
"[The] fact that sometimes that's unacknowledged adds to the frustration. And the fact that a lot of African-American boys are painted with a broad brush and the excuse is given, well, there are these statistics out there that show that African-American boys are more violent — using that as an excuse to then see sons treated differently causes pain."
Obama also questioned the purpose and effectiveness of the Stand Your Ground law that without which, many have speculated, Trayvon might be alive today. And if the gun had been in the other hand, how would Trayvon have fared, the president asked.
"If [he] was of age and armed, could he have stood his ground on that sidewalk? And do we actually think that he would have been justified in shooting Mr. Zimmerman, who had followed him in a car, because he felt threatened?" Obama said. "And if the answer to that question is at least ambiguous, it seems to me that we might want to examine those kinds of laws."
Obama implored Americans to think about their own views on race and whether they're judging people based more on the content of their character than the color of their skin. A little individual soul searching, he suggested, may be a more "appropriate exercise in the wake of this tragedy" than national conversations about race that don't tend to be fruitful.
It is often said that younger generations view race differently and sometimes even suggested that on the issue they're color-blind. This is not to say that a post-racial society exists or that racism has been eliminated, the president noted, but he has observed an evolving perspective among his daughters and their friends.
"They're better than we were on those issues. And that's true in every community that I've visited across the nation," Obama said, a sign the nation's becoming "not a perfect union, but a more perfect union."
BET Politics - Your source for the latest news, photos and videos illuminating key issues and personalities in African-American political life, plus commentary from some of our liveliest voices.  Click here to subscribe to our newsletter. 
 (Photo:  Win McNamee/Getty Images)