50 Cent Celebrates Pop Smoke 'Best New Artist' Win At BET Hip Hop Awards
It's a bittersweet win for fans of the late Brooklyn rapper.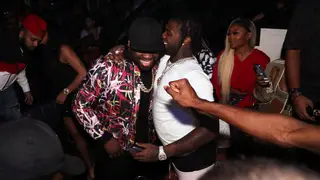 The 2020 BET Hip Hop Awards aired on Tuesday (Oct. 27), and the award show came with a bittersweet win for the rap community. 
In March, 50 Cent announced that he would executive produce the late rapper's final project, Shoot for the Stars, Aim for the Moon, which was also his debut album. At the time he undertook the task, the rap mogul promised that he would make the record so good that it would win awards, writing on Instagram, "He told his mom he wanted to take her to an award show. So I'm gonna make sure his album gets her there."

The rap mogul took to social media to celebrate the big win, writing, "He got one, for his mom. @roddyricch thank you for helping me with this."

Unfortunately, Pop's mother was not there to accept the award because of the pandemic. But, the hosts of the show, 85 South, accepted it in his stead. His legacy was further honored during the award show last night with a tribute performance from Quavo.

Pop Smoke's star was on the rise before he was tragically shot and killed on February 19 by intruders who invaded the Hollywood Hills house he was renting. His debut album was later released in July via Republic Records and debuted at No. 1 atop the Billboard 200 album chart, making it his  first project to do so and remains among the top-selling albums of 2020.