Vogue Requests Custom Gown Remake for Met Gala, Designer Refused
Carly Cushnie, who was still a rising star in 2014, is happy she listened to her gut.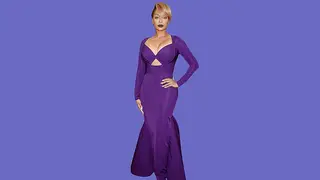 New York-based fashion designer Carly Cushnie recently shared a memory of a time when she followed her instincts when it came to her designs and said no to Vogue when asked to remake a dress for the Met Gala.
In a TikTok video, Cushnie talks about being asked to make a gown for LaLa Anthony in 2014 when she was still a rising star in the fashion industry. The theme that year was Charles James--an English-American fashion designer. He is best known for his ballgowns and highly structured aesthetic.
Cushnie took the theme as her blueprint but modernized it adding a cutout to accent LaLa's gorgeous physique in a stunning royal purple.
Vogue approved the sketch and the fabric before she proceeded to make the design, Cushnie recalls, but the iconic magazine came back to her mere days before the gala and asked her to remake the dress in a more pastel color palette. She said no.
"More than anything, I felt that LaLa looked incredible," Cushnie says, "Paired with the styling--the dark lip and her sleek haircut, she just looked so stunning. I had to make a decision and I put my foot down and I said 'No, I can't make another dress.' I'm glad I stuck with my guns because I think she looked really amazing."
Originally from London, Cushnie attended Parsons School of Design in both Paris and New York, where she received her BA in Fashion Design.
Best known for her luxury women's Ready-to-Wear collection CUSHNIE, her artful tailoring and her feminine drapery became a celebrity favorite worn by many influential women including Michelle Obama, Beyoncé, Zendaya, Ava Duvernay, Rihanna, and Ashley Graham.
Cushnie has achieved numerous accolades including, the winner of the Ecco Domani Award (2009); a finalist for the CFDA/Vogue Fashion Fund (2011); Forbes 30 under 30 (2017); and the first black female nominee for the CFDA Swarovski Award (2013). In 2019 Carly Cushnie was appointed to the CFDA Board of Directors.
The 2023 Met Gala is today, May 1, 2023, at The Metropolitan Museum of Art. This year's theme is 'Karl Lagerfeld: A Line of Beauty.'  Lagerfeld's legacy will also be celebrated for The Metropolitan Museum of Art's Spring 2023 Costume Institute Exhibition.