Fetty Wap Receives Six-Year Sentence After Pleading Guilty To Drug Charge
The punishment was in-between the mandatory minimum and what prosecutors were arguing for.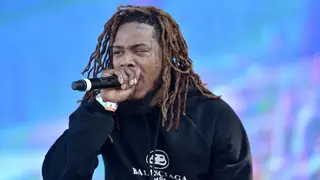 Fetty Wap has reportedly been sentenced to six years in federal prison on Wednesday (May 24) for his role in a drug-trafficking scheme.
According to the Associated Press, the sentence was handed down in federal court on Long Island. The New Jersey rapper, born Willie Junior Maxwell II, faced a mandatory minimum of five years, which he had previously argued for while prosecutors argued for nine years.
During his sentencing, Fetty apologized for his actions, telling the judge, "Me being selfish in my pride put me in this position today." He pleaded guilty to conspiracy to distribute and possess controlled substances last August. Elizabeth Macedonio, his attorney, says his involvement in the "instant offense" stemmed from "depression" and compounding "financial obligations" exacerbated by the onset of the coronavirus pandemic.
Fetty Wap was arrested in October 2021 on charges of participating in a conspiracy to smuggle large amounts of heroin, fentanyl and other drugs into the New York City area.
Prosecutors said the scheme involved using the U.S. Postal Service and vehicles containing hidden compartments to move drugs from the West Coast to Long Island, where they were stored for distribution to dealers on Long Island and in New Jersey.