BET Awards 2021: 10 Times Travis Scott Used His Magic Touch To Set Songs On Fire
Here are some of the reasons why other artists and top brands love working with the Houston-born rapper.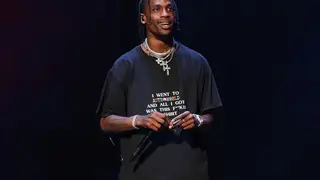 Travis Scott's unique style, flow and delivery have established this Houston native as one of the best in the game. The multi-threat rapper/singer/songwriter/producer has a lot under his belt--three studio albums, two mixtapes, two collaborative albums and 43 music videos. But what we love about him most is how nice he plays with others. From brands to rappers, Scott has done some remarkable collaborations. Here are some of our favorites. 
Sicko Mode

"Sicko Mode" is a club banger! Play it loud. The song features Drake rhyming with his trademark nasal flow along with Travis spitting some bouncy lyrics.

3500

Future and 2 Chainz kill it on "3500." Released in 2015, this song was the lead single from Travis's debut album Rodeo. Stretching for nearly seven and a half minutes, this is Scott's longest track and if you like these three rappers this song gives you a bang for your buck. 

Goosebumps

Goosebumps features Kendrick Lamar with his intelligent gangster style rhyming. Scott broke the world record for consecutive times a song was performed in 2017 when he performed it at a Cleveland show 15 times in a row. The previous record holders were Jay-Z and Kanye West, who had performed "Niggas In Paris" 12 times during te Paris stop of their Watch The Throne tour.

Pick Up The Phone

"Pick Up The Phone," a song by Travis Scott and Young Thug, features rhymes from Quavo of Migos fame. I mean, with those three, how wrong could it go? ANSWER: Not even a little. The song is featured on both Young Thug's Jeffery mixtape and Travis Scott's Birds In The Trap Sing McKnight studio album.

Mamacita

Rich Homie Quan's relationship with Travis Scott and Young Thug may have deteriorated but this song, featuring the three of them, sure hasn't as they blend together perfectly in search of that perfect woman.

Reese's Puffs

Scott's first food collaboration introduced us to Reese's Puffs, a cereal that included limited edition boxes, bowls and spoons. General Mills made the limited edition items available at a pop-up event in France where Travis signed boxes for anyone who plunked down $50  per box.

Fortnite

Okay, this was lit! Fortnite, a multi-player, battle royale game that is possibly the biggest game ever with nearly 250 million current players, allowed Travis Scott to hold a concert within the game. Players who were online were treated to a virtual Scott moving around the game's map as players were shot up into space and down into the ocean

McDonald's

Travis Scott created a meal for the McDonald's menu that became so popular that McDonald's had to stop selling it in stores , It was only allowed to be purchased online as their restaurants kept running out of the ingredients. Known as the Cactus Jack meal, it consisted of a Quarter Pounder with cheese, bacon, and lettuce, a Sprite, and fries with BBQ sauce... Travis's go-to order.

Travis Scott Jordan 4 Retro Cactus Jack

This shoe makes good use of red and Carolina blue (although Nike calls it University blue) in this throwback Jordan. Inspired by the Houston Oilers and featuring Cactus Jack and Jumpman logos on each heel, you probably don't want to actually play ball in these. They, like all Travis Scott sneaker collabs, are limited edition.

Travis Scott Nike Air Force 1 Low Sail

These Air Force 1s are one of Scott's earlier designs for Nike that were so popular in their limited release, that some resellers are asking for more than $1300. Plus, they have the gum bottoms that many a sneakerhead can't resist. 

 Watch the 2021 BET Awards on June 27 at 8/9C p.m.