Dave Chappelle's 'SNL' Monologue Condemned By Anti-Defamation League
Anti-Defamation League's CEO Jonathan Goldblatt took to Twitter to express his thoughts.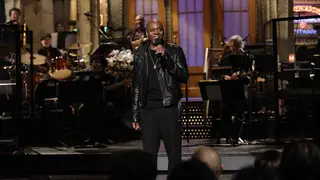 Dave Chappelle's Saturday Night Live opening monologue last weekend did not sit well with a number of viewers including the Anti-Defamation League, after the comedian talked about Kanye West (who now goes by Ye) and his recent antisemitic comments and financial woes.
Chappelle kicked off his monologue by reading a statement from a folded note: "I denounce antisemitism in all its forms and I stand with my friends in the Jewish community. And that, Kanye, is how you buy yourself some time."
"It's a big deal, he had broken the show business rules," Chappelle said of West on Saturday's (Nov. 12) show. "You know, the rules of perception. If they're Black, then it's a gang. If they're Italian, it's a mob. If they're Jewish, it's a coincidence and you should never speak about it."
He continued: "I've been to Hollywood and—no one get mad at me—I'm just telling you what I saw. It's a lot of Jews. Like… a lot,"  said Chappelle with a wry smirk. He later added that the "delusion that Jews run show business" is "not a crazy thing to think," but "it's a crazy thing to say out loud."
Anti-Defamation League's CEO Jonathan Goldblatt took to Twitter to respond to Chappelle's monologue.
"We shouldn't expect @DaveChappelle to serve as society's moral compass, but disturbing to see @nbcsnl not just normalize but popularize #antisemitism. Why are Jewish sensitivities denied or diminished at almost every turn? Why does our trauma trigger applause?"
Last month, West shared in now-deleted social media posts that he wanted to go "death con 3 on JEWISH PEOPLE," before appearing on several podcast and television sets where he continued to share antisemitic rhetoric.
West has since been dropped by his talent agency CAA, Vogue, Adidas, Gap and other business partners.
Did Dave Chappelle go too far? Take a look at his opening SNL monologue here and judge for yourself.