DOJ Charges Louisville Police Officers Who Killed Breonna Taylor With Conspiracy, Making False Statements, And Unreasonable Force
The Department of Justice also has a wider investigation open into the "patterns and practices" of the entire LMPD.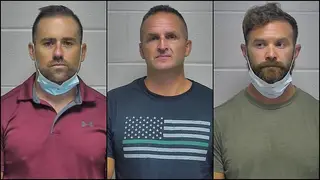 Former Louisville Metro Police Detective Joshua Jaynes was taken into custody today (August 4) after FBI agents arrested him in connection with the death of Breonna Taylor. Jaynes was fired after it was discovered he lied on the search warrant used when police forced themselves into Taylor's apartment during a botched raid on March 13, 2020, that led to her fatal shooting. According to the Louisville Courier-Journal, former Detective Brett Hankison is also facing federal charges and two other officers who are still working for the Louisville Police Department (LMPD).
Taylor was a 26-year-old Black woman who worked as an emergency room technician. She had hopes of becoming a nurse one day. Her hopes never came to fruition as the attempt to issue a search warrant for illegal drugs by the LMPD resulted in her death and sparked outrage across the country.
The charges issued by a federal grand jury include federal civil rights offenses, unlawful conspiracies, obstruction offenses and the use of excessive force.
"Among other things, the federal charges announced today allege that members of LMPD's Place-Based Investigations Unit falsified the affidavit used to obtain the search warrant of Ms. Taylor's home, that this act violated federal civil rights laws, and that those violations resulted in Ms. Taylor's death," said Attorney General Merrick B. Garland during a press conference.
"Breonna Taylor should be alive today. The Justice Department is committed to defending and protecting the civil rights of every person in this country. That was this Department's founding purpose, and it remains our urgent mission."
Garland further explained that the first indictment charges Jaynes, 40, and current LMPD Sergeant Kyle Meany, 35, with federal civil rights and obstruction offenses for their roles in preparing and approving a false search warrant affidavit that resulted in Taylor's death. The indictment alleges that Jaynes and Meany knew the affidavit contained false information, left out important facts, used old leads and then covered up the fact that they falsified the warrant and lied to investigators. It also claims that they knew the LMPD officers would be armed when executing the search warrant creating a dangerous environment for anyone living in that home.
The second indictment charges Hankison, 46, with civil rights offenses for firing his service weapon into Taylor's apartment through a bedroom window that was covered with blinds and a blackout curtain resulting in unconstitutional excessive force while acting as a police officer. Hankison also fired shots through a sliding glass door that was covered with blinds and a curtain, where his bullets went through the wall of Taylor's home and into the apartment next door.
Hankison was found not guilty earlier this year of wanton endangerment related to his shooting into the neighbor's apartment during the raid. He was the only officer charged at the state level in connection with the case.
The Department of Justice filed the third indictment and charged LMPD Detective Kelly Goodlett with conspiring with Jaynes to falsify the search warrant for Taylor's home and to cover up their actions afterward.
Civil rights lawyer Benjamin Crump and co-counsel Sam Aguiar and Lonita Baker represented Taylor's family throughout their ordeal.
"Today was a huge step toward justice. We are grateful for the diligence and dedication of the FBI and the DOJ as they investigated what led to Breonna's murder and what transpired afterward. The justice that Breonna received today would not have been possible without the efforts of Attorney General Merrick Garland or Assistant AG for Civil Rights Kristen Clarke," they said in a statement. 
"We hope this announcement of a guilty plea sends a message to all other involved officers that it is time to stop covering up and time to accept responsibility for their roles in causing the death of an innocent, beautiful young Black woman.
It should be pointed out that an indictment is a formal allegation of criminal conduct and not a presumption of guilt. That still must be proven beyond a reasonable doubt in a court of law.