BET Awards 2023: 5 Iconic R&B Records That Wouldn't Exist Without Babyface
The legendary singer-songwriter is responsible for over a dozen hits.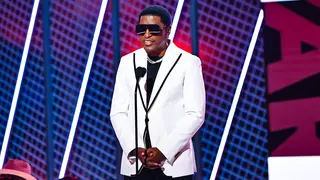 Babyface, an iconic figure in the music industry, has solidified his position as one of the greatest songwriters of our time. With his unparalleled talent, he has penned timeless hits that have resonated with audiences across generations. From soulful ballads to infectious R&B grooves, Babyface's songwriting skills have given birth to countless musical masterpieces.
His lyrical genius and ability to craft melodies that tug at the heartstrings have produced songs that wouldn't have existed without his touch. Artists such as Whitney Houston, Boyz II Men, and Toni Braxton owe their chart-topping success to Babyface's pen, as he has truly redefined the landscape of contemporary music with his remarkable contributions.
"Red Light Special" / TLC

Babyface penned "Red Light Special" for the r&b girl group TLC for their 1994 sophomore album CrazySexyCool. The track was a massive success, reaching no. one on the US Billboard Rhythmic Top 40 chart and no. two on the Billboard Hot 100 chart.

"Another Sad Love Song" / Toni Braxton

Babyface, Darryl Simmons, and L.A. Reid penned Toni Braxton's 1993 breakout single "Another Sad Love Song." The record earned Braxton her first Grammy win for "Best Female R&B Vocal Performance" at the 36th annual event.

"My My My" / Johnny Gill

In 1990, Babyface and longtime collaborator Daryl L. Simmons gave former New Edition member and r&b singer Johnny Gill what would go on to be one of his signature tracks, "My My My."

"Can We Talk" / Tevin Campbell

Legendary singer Tevin Campbell earned a gold record after Babyface and Daryl Simmons.  The record spent nearly a month at no. one on the US R&B chart and earned the star several accolades, including a Grammy Award nomination at the 1994 ceremony.

"I'll Make Love To You" / Boys II Men

Boys II Men's 1994 single "I'll Make Love To You" is one of the greatest love songs of all time, and thanks to Babyface. It was a commercial success earning the iconic group several recognitions, including the Grammy Award for "Best R&B Performance by a Duo or Group with Vocals" at the 1995 event.

The 2023 BET Awards premieres Sunday, June 25 at 8 pm ET/PT on BET and BET Her.