Teen Seeks To Overturn Court-Ordered $150K Payment To Family Of Her Rapist
The judge's restitution order is 'absurd,' Pieper Lewis' attorneys say.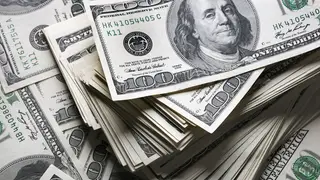 Lawyers representing an Iowa teen asked a judge to reverse his order for her to pay $150,000 in restitution to the estate of her rapist.
"The very notion that she is now required to pay $150,000.00 to the heirs of the man who raped her on the morning of June 1, 2020, is absurd," attorneys for Pieper Lewis, now 18, wrote in legal documents filed with the court on Monday (Sept. 26), according to USA Today.
Lewis, a sex trafficking victim, pleaded guilty to voluntary manslaughter and willful injury after killing Zachary Brooks, 37, whom she said sexually assaulted her multiple times in the weeks leading up to the killing.
Judge David M. Porter sentenced Lewis, who was 15 at the time of the fatal stabbing, to five years probation and ordered her to pay restitution to Brooks' family. Porter said a 1997 Iowa law, which the state Supreme Court upheld in 2017, compelled him to order the $150,000 payment.
The 2017 high court's decision involved a 15-year-old Cedar Rapids girl who pleaded guilty to fatally stabbing a man during a robbery with her boyfriend, 19, in 2013. She received a 25-year prison sentence and was ordered to pay $150,000 restitution to the victim's family.
In Monday's filing, Lewis' attorneys argued that the two cases "bear no similarity." For one thing, the Cedar Rapids teen willfully joined her boyfriend in the robbery and killing. By contrast, Lewis' trafficker forced her at knifepoint to go to Brooks' apartment to have sex with him for $50 worth of marijuana, the attorneys said.
"But for the conduct of her sex-trafficker, Pieper never would have met Mr. Brooks and Mr. Brooks, in turn, would never have had the opportunity to rape this 15-year-old homeless runaway girl," the court filing stated.
Prosecutors didn't dispute Lewis' sexual assault claims nor that she was a sex trafficking victim but maintained the she killed Brooks while he was sleeping. Her trafficker still has not been charged.
If the judge rejects their arguments, Lewis' attorneys asked him to stay his decision so they can file an appeal.
Meanwhile, a GoFundMe campaign launched by Lewis' former high school teacher on her behalf has raised more than $560,000 by Sept. 28.