Pastor Jamal Bryant Extends 'Deepest Condolences And Apologizes' To Kevin Samuels' Family
He thanked his congregation for keeping him accountable.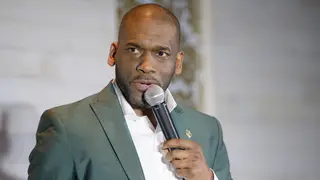 Pastor Jamal Bryant is apologizing to Kevin Samuels' family after some say he ridiculed the controversial YouTube star in the wake of his sudden death on May 5, 2022. Bryant expressed his remorse for commenting on Samuels during a Mother's Day sermon calling him "a weak man".
"Benjamin Franklin once said, 'the best way to mess up an apology is to add an excuse.' I extend my deepest condolences and apologies to #kevinsamuels' family and friends. Thank you to all who purposed to keep me accountable," Bryant captioned under a video of his public apology at New Birth Missionary Baptist Church in Stonecrest, GA. via  Instagram.
"We grow from mistakes and birth maturity. Humility will always defeat arrogance. We grow as we go!"
According to the New York Times, Samuels fashioned his career as "an image consultant" who provided relationship advice to Black men and women. Many saw his views as both outdated, misogynistic and downright disgusting.
Bryant had previously addressed a video that Samuels shared before his death, which labeled unmarried Black women over 35 as "leftovers." Bryant then questioned those at his church, asking, "How can a man say you are of low value after 35?" before asking how Samuels could make such claims when "that man has to get a GoFundMe for his funeral."
People close to Samuels reportedly told TMZ that the GoFundMe circulating online isn't condoned by his family, adding that "GoFundMe offered Kevin's family the few hundred bucks raised on the fake page, but they refused to accept it, so it was returned to donors."
Samuels was found by the Atlanta police unresponsive on the floor of his apartment. No cause was cited. He was 57 years old.