Celebrating Thurgood Marshall: A Cinematic Tribute to the First African-American Supreme Court Justice
Marking the historic confirmation anniversary, we spotlight five compelling films that capture the legal luminary's essence, struggles, and triumphs.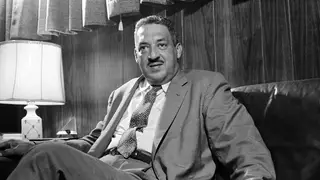 Thurgood Marshall made history on this day in 1967 when he became the first African-American confirmed to serve on the U.S. Supreme Court. Before his nomination, he had successfully argued against school segregation in the groundbreaking Brown v. Board of Education and won nearly 30 other cases before the high court.
After the Senate vote of 69-11, with 20 primarily Southern Democrats abstaining, Marshall was sworn in two days later. "I believe it is the right thing to do, the right time to do it, the right man and the right place," said President Lyndon Johnson, who in 1961 had unsuccessfully tried to seat Marshall on the U.S. Court of Appeals.
As we commemorate this historic anniversary, let's explore five must-see movies that delve into the life and contributions of this remarkable icon.
"Marshall" (2017)

"Marshall" is a biographical drama that offers a gripping portrayal of Thurgood Marshall's early career. Chadwick Boseman delivers an outstanding performance as the young Thurgood Marshall, who was then an attorney for the NAACP. The film focuses on one of his early cases, the defense of a Black chauffeur accused of raping a white socialite. "Marshall" provides a window into Marshall's fierce commitment to justice and his unwavering dedication to breaking down racial barriers in the legal system.

"Thurgood Marshall: The Man" (1988)

Released five years before his death in 1993, this documentary takes a deep dive into the life of Thurgood Marshall. Through interviews, archival footage, and personal anecdotes, it provides a comprehensive and insightful look at Marshall's journey from a segregated Baltimore to the highest court in the land. This doc can be seen on Turner Classic Movies.

Thurgood (2011)

In this one-man, HBO show directed by Michael Stevens, Laurence Fishburne is astounding in his portrayal of Thurgood Marshall. Fishburne's powerful performance brings Marshall's wit, wisdom, and determination to life. He also earned a Emmy nomination for Outstanding Lead Actor in a Miniseries or Movie.

"Mr. Civil Rights: Thurgood Marshall and the NAACP" (2012)

This documentary explores Marshall's pivotal role in the Civil Rights Movement and his association with the NAACP. Through interviews with those who worked alongside him, the film highlights Marshall's tireless efforts in fighting segregation and discrimination. It also showcases his strategic brilliance as he employed the legal system to dismantle Jim Crow laws and challenge racial injustice.

"Biography - Thurgood Marshall: Justice for All" (2005)

This doc offers a comprehensive look at Marshall's early years, legal advocacy, landmark cases, and his historic appointment to the Supreme Court. The biography also sheds light on Marshall's enduring commitment to justice and his lasting impact on American jurisprudence.

You can watch in full above.