Interview: Keri Hilson Talks New Film And Why She Hasn't Released an Album
She also reveals which R&B singers she'd love to collaborate with.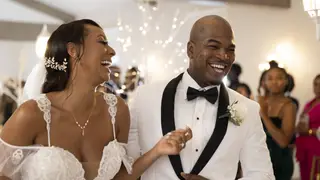 Keri Hilson is one of the most extraordinary R&B acts to have graced the music industry and, during her hiatus, she's found equal success as an actress. This holiday season she's reprising her role as Jessica in VH1's holiday film Hip Hop Family Christmas Wedding, the sequel to Hip Hop Family Christmas.
The film follows Jessica (Hilson) and Jayson (Ne-Yo) getting prepared to walk down the aisle while their mothers, Tina (MC Lyte) and Nancy (Valarie Pettiford), fight it out for wedding planning supremacy. Meanwhile, Blare (Terrence J) is running his music label, and when he meets his formidable, beautiful new boss, Jai (Cassie), she proves to be a force to be reckoned with.
Hilson talked to BET.com about the film, why she hasn't released a new album, the "perfect" record for her and Lucky Daye, and why Nipsey Hussle is one of her favorite hip-hop moments.
BET.com: The shower…or bridal tea party was a mess and a half with Nancy and Tina going at each others' throats to make the day unique for their respective child. For Keri, what does your ideal "bridal tea party" look like?
Hilson: Can I be honest Ty? I'm not the woman who has any dream dress, or dream wedding setting — I don't know if I want the beach or church as I've only dreamt about the way I want the love to feel and look. I don't have any visions — not even the ring. What I do know is if and when you see me married, it's going to be the healthiest, purest love that I've ever known.
BET.com: Should the love feel like a 90s R&B record?
Hilson: I'm gonna go with 70s soul — it's going to feel like Donnie Hathaway and how you think the essence of love through certain voices like Roberta Flack — it's going to be so beautiful, but I love 90s R&B, too.
BET.com: What's one thing the man of your dreams must have?
Hilson: This brings me to the film because, like [Ne-Yo]'s character Jayson, I would like for my man to be expressive as Jayson is a good communicator and loyal — he loves my ugly and loves the things that are so uptight about me as he giggles. Playing Jessica, I feel entirely accepted by Jayson despite all my flaws. It starts with acceptance and genuine encouragement who loves you where you are to work on your flaws and overcome your shortcomings.
BET.com: It seems Jessica is at her wits end dealing with Nancy and is almost pushed to her "Breaking Point," how does Keri deal with negativity?
Hilson: I don't anymore — you develop the empathy to understand where negativity is rooted when it's coming at you whether it's someone's words or comments or encountering someone who may be upset. I don't engage and it's been healthy for me because it usually has nothing to do with me. When negativity comes, I don't allow it to penetrate as I take the position of compassion. People know I went through a battle, darkness with depression, and you learn to fight for yourself and your needs, peace, and sanity.
BET.com: Blair, played by Terrence J, is the owner of the boutique record called Big Boss Records, where they make hits. As a big boss artist in your own right, which one of your biggest hits is near dear to your heart and, in your opinion, solidified you as a top-notch artist?
Hilson: There are two collaborations I must choose, so this answer will be double-sided and it's the record with Xzibit called 'Hey Now' which Timbaland produced, and then my record 'The Way I Are' because those two records are near and dear to me because it's exactly the way I wanted to be introduced to the world.
BET.com: Who from the new school of R&B artists has been catching your attention lately that you would love to collaborate with?
Hilson: All of them to be truthful — I like SZA, H.E.R., and Summer Walker. I love many of them and what I'm hearing from artists like Snoh Aalegra and Jazmine Sullivan. [Jazmine] and I came in together, so I think a collaboration would be beautiful. I also love Lucky Daye, as he and I would murder a record, and I know what it would sound like. I hope we get that opportunity. I would also say Silk Sonic, and I think they're missing me as a female member [laughs]. They need a long-legged, long torso, who wears the 70s clothes like no other with a raspy 70s type of voice that would fit right into their records.
BET.com: Is an album in the works? And who would you like to have featured?
Hilson: Yes, an album is still in the works. During the time I was working on music last and felt prepared to release, I had lost my father and then I disappeared into movie land with 5-7 films since then. Music needed to take a seat because it requires a lot of you to prepare and plan — creating is the easy part. I would work with the previously mentioned, and also, I would work with BLEU. I can appreciate a lot of the voices because, for a minute, R&B was silenced and sonically, became mundane to a degree — now it's starting to blossom again, innovating with their sounds, and leaving the hip-hopisms out. We're back to hearing riffs, runs, melodies, bridges, and changes in songs which is evolving. I'm happy to witness R&B artists snatching the genre back.
BET.com: What's been your favorite album of the year thus far?
Hilson: I might have to go with Chris Brown — to me, he makes consistent music and you know what you're getting. This one is off the dome because this year, we saw a lot of great projects, but his for me gets played the most. He has a consistent sound and cruise control and not in a negative way. Chris doesn't settle and he has a sound — he understands what we love from him, is consistent, and he excels. He writes great music and he arranges like no other. I hate to see anyone speaking of him in any less of a way. I will always protect the craft, the art, and the artist when we're talking about musical things. He gives fans more music than they bargained for — he could easily give us 5 or 6 songs, but he'll provide us with 60 songs for sure.
BET.com: One thing for sure, two things for certain — don't say anything negative about Brown in front of Kelly or Keri.
Hilson: Well, yes, and both can be true. Someone could be a great artist but a flawed human. Someone could make mistakes and learn from them and grow. We have to allow people to not be bound by the terrible errors that none of us are exempt from making — we make different or private mistakes. We all have our trials, challenges, and undesirable circumstances. I believe we all deserve the opportunity to grow from these things.
BET.com: It's almost 50 years of hip-hop; what's a moment in hip-hop history that made you fall in love with the genre?
Hilson: I would choose Andre 300, saying, "The south has something to say" at The Source Awards. It put a battery in the back of so many artists from the south, not to mention their ultra, innovative take on music and how they busted into the hip-hop scene. Another turning point is Tupac passing away — I was in 7th or 8th grade when they happened, and it was terrifying. I will also go with Nipsey Hussle, as I'm so glad and grateful we were able to experience someone interested and active in uplifting our community again. We seldom would see another figure so motivated like that and bring us together to give us true wisdom. I have so much respect for Nipsey and while I didn't know every message he would say in his music when he passed and I was able to hear where he was coming from in his music and interviews, I felt an overwhelming sense of tragedy, yet gratitude that people like him still exist. He left a mark in the spirits still creating music and that's the kind of thing we need to see in Black music.
As we wait for the album, you can see Hilson in Hip Hop Family Christmas Wedding airing on VH1 on November 30th at 8 PM ET/PT.
---
*This interview has been edited for length and clarity
Ty Cole is a New York-based entertainment reporter and writer for BET.com who covers pop culture, music, and lifestyle. Follow his latest musings on Twitter @IamTyCole.