People Are Big Mad Martellus Bennett Isn't Visiting Trump's White House, But Where Were They When Tom Brady Skipped Meeting Obama?
Was it wrong for the Patriots QB to pass on the then-POTUS?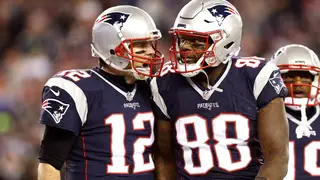 As divisive as Trump has been, we're not mad at the Patriots' star tight end at all.
Yet, Bennett was blasted by Trump supporters for his stance on social media.
Hold up, though. Where were these same mad keyboard warriors when Patriots superstar quarterback Tom Brady skipped out on the team's White House visit with Barack Obama back in January 2015? 
That's what people wanted to know as they took to their Twitter accounts to air Bennett's critics out.
Despite Brady, Patriots coach Bill Belichick and the team's owner, Bob Kraft, being friends with Trump, Bennett doesn't feel compelled to budge. And why should he?
"I'm not going to go," Bennett told the media last night, as reported by The Huffington Post. "It is what it is. People know how I feel about it. Just follow me on Twitter."
That honest sentiment has made Bennett a big target for Trump supporters.
But for as many people who blasted Bennett over his decision to skip visiting Trump's White House, there were many people who cheered on the tight end.
BET Sports News — Get the latest news and information about African-Americans in sports, including weekly recaps, celebrity news and photos of your favorite Black athletes.