Women's History Month: Why Is Salary Transparency Important To Black Women?
"Not being transparent almost always ensures that the person coming in behind you may not get what they deserve."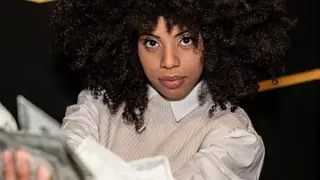 Twitter is the birthplace of many conversations that have sparked movements. Recently, it became a hub for discussions about salary transparency (also called pay transparency), especially among Black women and women of color.
Victoria Walker, a senior travel writer, took to Twitter to tell anyone applying for her old job what salary and bonuses they should ask for.
"I thought it was important to do because not being transparent almost always ensures that the person coming in behind you may not get what they deserve," said Walker.
It is true that often employees do not receive the salaries they deserve, especially women. The lack of pay transparency in the workplace contributes to gender, wage and racial wage gaps, where women in the US earn 83 cents to the dollar of men. Black, Latina and Indigenous women are disproportionately affected by lower wages. So much, so that Black women in the U.S. are paid 36% less than white men and 20% less than white women. Greater pay transparency can help close these gaps, according to economists at the Institute for Women's Policy Research.
Olayinka Odeniran, the founder of CYBSECWATCH and Black Women Blockchain Council, is a cybersecurity expert and consultant who values entrepreneurship and makes the technology field inclusive and diverse.
BET.com sat down with Odeniran to talk about her journey through cybersecurity and finance, the ups and downs of being a Black woman in the financial sector, prioritizing wellness, and the importance of salary transparency among Black women.
BET.com: What is your job title and how did you get into your position?
Olayinka Odeniran: I wear multiple hats—I'm a cybersecurity consultant and Founder/CEO of Black Women Blockchain Council LLC. I transitioned into cybersecurity due to the nature of my position at the time which was a Chief Compliance Officer for a global financial firm. I got my master's degree in Cybersecurity Management and Policy. I also obtained the Certified Information Security Manager- CISM certification. Through my efforts, I was able to transition into a management role with the federal gov after my career change.
BET.com: What is your annual salary or salary range for your job title/field of work?
Odeniran: $100K+ - $600K+ a year. Cybersecurity is one of those industries that sees a wide range in salary depending on your experience and specialty.
BET.com: Did it require any schooling, and do you think other women need schooling to be successful in your field?
Odeniran: I found out that roles in cybersecurity are really based on skills, experience and obtaining a certification. Also knowing where within Cybersecurity you want to be is crucial. A lot of people say they want to get into cybersecurity but don't realize it's an industry. You need to figure out what sub-sector of industry you want to be in and once you do, you will find the pathway is not that difficult to navigate.
BET.com: What does salary transparency mean to you and do you feel it is important for Black women to share and be aware of salaries for different jobs and fields?
Odeniran: Salary transparency means accountability and control. How much you make factors into the generational wealth we create and the type of lifestyles we can obtain. Within the Black family, the individual who makes a steady income is the one who is often the main source of income for most of their family members. So, we need to have the right knowledge and ask for the right amount at work without the fear of leaving too much on the table or feeling like we've been short-changed.
BET.com: What is it like navigating your field as a Black woman and how have you combated racial discrimination and/or wage discrimination?
Odeniran: This is a question that every Black woman can look at each other, and already know the answer to. For some reason we all share the same experience regardless of what industry, company, etc. We have encountered the same craziness, passive-aggressiveness, overworked, overlooked, disqualified, and more. Yet we continue to persevere knowing we are so much more.

BET.com: Why did you create the Black Women BlockChain Council?
Odeniran: Black Women Blockchain Council Benefit LLC (BWBC) is a global benefit LLC created out of necessity in 2018. There was a movement to show representation in what most assume was a male-dominated space.
BWBC's purpose is to create a space where Black women are promoted, supported, and educated about blockchain.
Our vision is to make sure that in building this future in blockchain no one is left behind. We see blockchain as a revolution to help Black women across the globe, bridge the wealth gap, increase talents, and be innovative. To carry out our mission we provide the following:
Educational events to raise awareness and increase mass adoption within the community.
Resources to train individuals in the technical understanding of Distributed Ledger Technology.
Promotion of Black women-led blockchain projects
Help black women obtain jobs in Fintech, blockchain, or other technology sectors.
Collaborate with other organizations to promote favorable blockchain and cryptocurrency legislation and programs.
STEM training to underprivileged girls (K-12). Our website is www.bwbc.io
Where do you live and how do you budget for your city/town on your salary?
Odeniran: I live in the Washington, D.C.area. Budgeting starts with negotiating for the income you deserve! Don't leave anything on the table. Never be at a job that starves you. Also, understand that negotiation is an important part of your promotions and salary increases.
Working as a Black woman can be extremely stressful, do you have any advice on taking time for wellness and self-care?
Odeniran: Take it! I used to work in an environment where my boss micromanaged me by pestering on about "work/life balance."
What he really meant was that I need to extend myself and put more time into my work, even though I was putting more effort into it than he and my coworkers. On top of that, I was juggling motherhood, graduate school and more. He represented everything negative about working in the corporate environment.
We deserve our time off. Our mental health and physical health is more important than a crazy boss or a replaceable job. Take care of yourself, sis.
Disclaimer: Responses were edited for purposes of clarity.