My Boo!: 10 Celebrity Couples Who Keep Hip Hop Hot
From Cardi B and Offset to Remy Ma and Papoose, these love birds have an undeniable connection.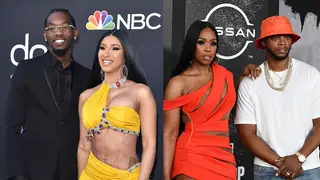 Valentine's Day is all about expressing your love, and being a celebrity couple comes with its own unique set of challenges. However, we rounded up some of our favorite hip-hop couples who are keeping their love strong. 
Rihanna and A$AP Rocky

In May 2021, GQ magazine declared that A$AP Rocky was the Prettiest Man Alive, and the photo shoot proved just that. However, fans of the rapper and Rihanna lit up when he expressed his love for the singer calling her "the love of my life" during the interview with the outlet. And while that news was exciting, the duo topped themselves and surprised fans again with a photo shoot that revealed they were expecting a baby in Feb. 2022. Then the singer set the internet on fire by revealing baby bump no. 2 during her 2023 Super Bowl performance!

LL Cool J and Simone Smith

Grammy-winning rapper turned actor LL Cool J aka James Todd Smith, and his wife Simone have been married for over 25 years. The duo showed us how strong their love is as they weathered Simone's 2004 bone cancer diagnosis. In a 2013 interview with Oprah Winfrey, Simone said that the diagnosis strengthened their marriage. The "NCIS: Los Angeles" actor added, "You don't abandon someone in that fox hole," LL told Oprah. "You gotta be there in that foxhole with them," he said.

Gucci Mane and Keyshia Ka'Oir

Cardi B and Offset

In 2017 the hip-hop power couple, who now have two kids together, secretly got married, which was preceded by an extravagant proposal at a concert in Philadelphia. And while the couple has faced rumors of Offset's infidelity, in a recent interview with Jason Lee on his self titled podcast, Cardi B spoke about how they're evolving.  "I feel like we got married so young, and we got married so, like, spontaneously. And we did know each other, but we kinda didn't know each other. We just was in love with each other and we had, like, a little toxic relationship. … During our marriage and by time passing, we grew. We grew with each other," she said. 

Jhené Aiko and Big Sean

Since 2016 when Jhené Aiko and Big Sean released their album, "Twenty88," their chemistry has been undeniable. Fast forward to Nov. 2022, and Aiko posted on Instagram that she gave birth to their first child—her second and his first— together, Noah Hasani, after 24 hours of labor.

Alicia Keys and Swizz Beatz

According to People, Alicia Keys and Swizz Beatz met when they were teens in the 90s and reconnected in 2008. The singer and music producer— real name Kasseem Dean— exchanged vows during an intimate ceremony on July 31, 2010, in a Mediterranean location. They share kids Egypt and Genesis.

Ice-T and Coco Austin

In an Instagram post from last Valentine's Day, rapper-turned-actor Ice-T posted about meeting his wife, Coco Austin, on a music video set in 2001. And from the looks of the picture, he was smitten. And clearly, she felt the same way, too, as they exchanged vows in Vegas a few months later.

Papoose and Remy Ma

"All the Way Up" rapper Remy Ma has been pretty transparent about some of her struggles, such as her miscarriage and infertility. And according to People, she married Papoose before serving a six year prison sentence. The duo welcomed daughter Reminisce Mackenzie in 2018 and recently announced that they are expecting another.  

Nicole Tuck and DJ Khaled

Record producer and hip hop artist DJ Khaled who refers to his wife Nicole Tuck as his "queen," have been together for nearly 15 years. And in a 2021 interview with US Weekly, when asked about adding to their family of four the music mogul said "Whatever God gives us, I'm ready. Me and my queen, we talk about it once in a while," he said. "She just had two boys, our two beautiful boys and [I want to] make sure that she's right."

Yung Joc and Kendra Robinson

Yung Joc and Kendra Robinson spoke with BET.com recently about their relationship and shared what they have learned. Kendra noted, "My husband and I have God present in the middle of our marriage, and we use Him kind of like the fertilizer to grow our union."  While the "It's Going Down" rapper shared, "I feel like in a relationship, you are always learning new things about your partner because you are both always evolving."