Apology For Boston's Role In Slave Trade Unanimously Approved By City Council
The resolution also aims at reversing some of the effects of slavery.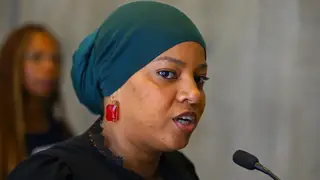 On Wednesday (June 15), Boston City Council reportedly issued a formal apology for the city's role in the transatlantic slave trade.
According to the Boston Globe, the council unanimously voted to approve a resolution apologizing for slavery and "the death, misery, and deprivation that this practice caused" while also vowing "to dedicate policies and efforts to repair past and present harm done to Black Americans via systemic racism."
The measure does not reportedly provide funding for reparation payments nor does it explicitly commit the city to any specific policies aimed at reversing centuries of harm, or even create a study on reparations.
City Councilor Tania Fernandes Anderson, who introduced the resolution, told her colleagues that "when a harm is done, the first step is to acknowledge the harm and apologize. Now is a good time to do so."
The resolution, while historic, falls short of putting forth more robust measures. Some of embers of the council support raising questions about when more concrete policy avenues could be taken.
Back in February, City Councilor Julia Mejia proposed a commission to study reparations for Black Bostonians, calling for a wide-ranging examination of ongoing harms and inequalities. That proposal would have created a 15-member body tasked with studying systemic racism and reparations over the course of around two years.
A month later, councilors considered the reparations commission, but raised questions about how much the body would cost and how its membership would be determined.
The council's vote comes less than a week before Juneteenth, which commemorates the emancipation of formerly enslaved African Americans months after the Civil War ended and marks the day in 1865 – two years after the signing of the Emancipation Proclamation – when Union Army troops announced to enslaved people in Galveston, Texas they were free.