OPINION: NAACP President Derrick Johnson And Senate Majority Leader Chuck Schumer Call For Biden To Finally Put An End To Student Loan Debt
In an exclusive Op/Ed, the two leaders explain why they want the President to cancel the tremendous financial burden that weighs so heavily on Black borrowers.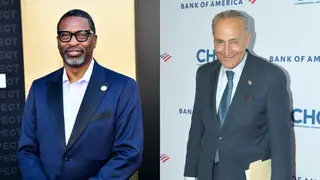 "Real education means to inspire people to live more abundantly, to learn to begin with life as they find it and make it better."
These words come from Carter G. Woodson, known as the 'Father of Black History.' The son of former slaves, Dr. Woodson was an historian and educator who was only the second African American to earn a PhD at Harvard. In 1919 he served as the Dean of Howard University's College Arts and Sciences, and by 1926 established the first-ever Negro History Week, now known as Black History month.
More than most, he knew firsthand what a real education promised to millions: inspiration, abundance, and a better life.
Today, higher education remains every bit as vital for tens of millions of Black Americans as it was a century ago. But it is now almost a given that if you want to earn a college degree, you must first take on a mountain of debt. The consequences can last a lifetime – unsustainable student debt can cripple people's hopes of starting a family, buying a home, and living with financial independence.
For Black Americans, the burdens of student debt are especially severe. They are far likelier than others to take out federal student loans to begin with, and on average, almost half will default within 12 years. Paying debt back is also often near-impossible: while the median white borrower will owe just 6% of their debt 20 years after starting college, the median Black borrower will still owe 95% of their debt over the same stretch of time.
This disparity is unacceptable. It is un-American. And at the current rate, it is entirely unsustainable.
In June, the NAACP joined the fight by announcing our #MeMinusStudentDebt campaign to address the current student debt crisis and increase pressure on the Biden Administration to act.
Today, the average white family has roughly 10 times the amount of wealth as the average Black family, while white college graduates have over seven times more wealth than Black college graduates. With the flick of a pen, President Biden could provide millions upon millions of African American student loan borrowers a new lease on life. It would free people to finally buy that house, or save for their kid's education, or to get going on starting that small business.
This isn't just the right thing to do for our economy: it's also the right thing to do in the fight for racial equity.
History is clear about the barriers Black students have faced in pursuit of a life-changing education. The first university in America—Harvard— was established in 1636, but it wasn't until it wasn't until 1823 that Alexander Twilight became the first African-American to graduate from a U.S. college.
It wasn't until 1837—200 years after Harvard's founding—that the first Historically Black College and University was established at all: Cheyney University of Pennsylvania.
And it took another 30 years—in 1862—for Mary Jane Patterson became the first African American woman to earn a bachelor's degree. She used that education to become a teacher, offering other Black Students the same opportunity she benefited from.
We still have a long way to go to bridge the racial wealth divide in America. And it will not likely happen so long as student debt continues to grow at its current pace.
President Biden has offered millions of borrowers critical relief by extending the pause on student loan payments during the COVID-19 pandemic. It's time for the President to take the next step: if the Biden Administration can pause debt, then they can cancel it too.
If we want Dr. Woodson's words of education's promise to hold true today, then the President must take this urgently-needed step.
---
Together Senate Majority Leader Chuck Schumer (D-NY) and President and CEO  of the NAACP Derrick Johnson are urging all Americans to urge President Biden to take end student loan debt as a means of closing the wealth gap. To support their efforts, visit here.