Chopping Block! The Cast of 'Love & Hip Hop: Atlanta' May Have Gone Too Far
Are serious changes coming to the show?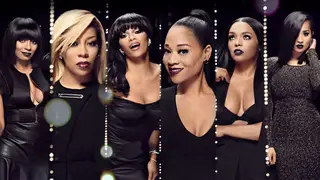 It seems as there is such as thing are going too far in the world of Love & Hip Hop: Atlanta.
According to recent reports, producers of the show are growing tired of the unnecessary drama and are pushing for a major shakeup in the cast, and no one is exempt.
Hollywood Life reports that the powers that be have given the entire cast the boot — including the show's staples, K. Michelle, Stevie J, Joseline Hernandez and Mimi Faust. The talks reportedly began after the drama that ensued ahead of the season five reunion show, and now, the entire cast has allegedly been fired.
While the reunion is yet to air, it is being reported that producers already informed the cast that they won't be needed for another season. According to AllHipHop.com, though, while the current cast has allegedly been axed, producers are already scouting out new folks for a fresh start in the ATL.
Though this could possibly mark the end of Love & Hip Hop: Atlanta, sources say the other members of the franchise (New York and Hollywood) are still going strong, with even talks of more cities being added in the future.
Watch how LHH alum Tahiry Rose dealt with life after the show in our exclusive interview, above.