Who's The G.O.A.T.? TDE vs Odd Future | Round 1
In the tournament to decide the greatest rap crew of all time, this Round 1 battle is a modern West Coast matchup between TDE and Odd Future.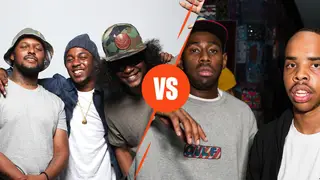 In recognition of hip hop's 50th anniversary, BET, in partnership with Ambrosia For Heads, is celebrating the culture by hosting a bracket-style competition that allows you to determine hip hop's greatest crew.
Rather than having "experts" tell you who is the greatest of all time, this is your opportunity to collectively make that decision. After giving the opportunity to any and all fans to provide feedback on which crews should be included, 32 collectives from different regions, styles, and generations have been selected—all vying for that #1 spot. When the final battle is over and the last vote is cast, you will have determined who is your Greatest Rap Crew of All Time.
At the top of the 2010s, Southern California watched two generational hip hop movements rise simultaneously. Both TDE and Odd Future built fanbases through the Internet, using compelling music, great music videos, and charisma to their advantage. By the middle of the decade, these crews had reached the top of the charts and were exercising their creative visions at the highest level. 
Members of these crews frequently collaborated, supported one another, and watched their digital grassroots efforts blossom into forces that shifted culture for years to come. The crews of Top Dawg Entertainment and OFWGKTA have produced superstars that have helped define the last dozen years in rap. Only one of these squads can remain as the West Coast bracket shrinks from eight crews to four.
TDE
Steel sharpened steel in 2011, which marked a watershed moment for the four MCs collectively known as Black Hippy and the emerging TDE brand. Q's "Setbacks," Soul's "Longterm Mentality," K-Dot's "Section.80," and Rock's "Follow Me Home" deliberately featured one another and cracked the consciousness of hip hop fans with excitement. 
In the next three years, that bond was upheld as these artists toured together, including as part of BET's Music Matters initiative, added to their collaborations, and scaled their vision up the charts and into the mainstream. Since then, Kendrick has become a Pulitzer-prize-winning artist with 17 Grammy Awards. Jay Rock, also a Grammy winner, has ushered in a new generation of hard-nosed West Coast gangsta rap. Q has topped the charts and shown evolution reflective of his journey. Ab-Soul has closed out 2022 with a comeback campaign and one of the year's best albums. When previously unknown Chattanooga, Tennessee, artist Isaiah Rashad joined the label, he was quickly treated as family. 
Odd Future
On January 31, 2011, Odd Future were special musical guests on "Late Night With Jimmy Fallon" after Fallon reportedly learned of the unsigned Los Angeles underground crew and checked out their music. After performing "Sandwitches," Tyler, The Creator jumped on Jimmy's back, and Hodgy Beats stood on stage while Domo Genesis and The Internet's Syd and Matt Martians looked on. The TV moment showed new audiences what an online cult following had known for some months: Odd Future Wolf Gang Kill Them All was a tour de force. 
The collective back in L.A., including Frank Ocean, Earl Sweatshirt, Left Brain, Mike G, Steve Lacy, and others, blended punk rock aesthetics, didactic rap deliveries, and fearless originality. By 2012, DIY song and video uploads had given way to a major compilation project, Billboard cover stories, a sketch comedy show, and an annual Camp Flog Gnaw Carnival. 
Like its non-conforming image, Odd Future defied genre—something true of its artists' music today. By the middle of the 2010s, OFWGKTA had gone in various directions, both creatively and personally. In the ensuing years, Earl's "Doris" was a gold-certified highlight from the ensemble, along with drops by MellowHype. Jasper, Steve Lacy, and others contributed to Tyler's Grammy-nominated "Flower Boy" album, while Earl, Domo, and Hodgy remain actively making music. Even if the group was a moment in time, the OFWGKTA revolution existed before and continues long after it was televised.
In this celebration of hip hop and all of its talented crews, your vote decides the winner.
---
EDITOR's NOTE: Register for the sweepstakes for a chance to win the grand prize of (2) two tickets to the 2023 BET Awards,(2) two round-trip airline tickets, and a 2-night hotel stay on June 25. Up your chances to win by voting weekly.
NO PURCHASE NECESSARY TO ENTER OR WIN. VOID OUTSIDE OF THE 50 U.S. & D.C. AND WHERE PROHIBITED BY LAW. Open to legal residents of the 50 U.S. & D.C. who are 18 years of age or older at the time of entry. Ends at 12:00 p.m. ET on May 1, 2023. Official Rules: bet.com/grcoat-official-rules. Sponsor: Black Entertainment Television.