Kim Kardashian Slams 'The Bachelor' Creator For Fake News After Announcing Khloe As The Next Bachelorette
Plus, other times she went savage-mode for her siblings!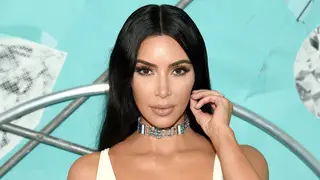 Let's set the record straight, Kim Kardashian is NOT the one to be played with when it comes to protecting her sisters, and just in case you wanted to argue with us about it, we've brought the receipts.
From reading her sisters' exes for filth to blasting the entire internet in support of her baby sis, over the years, thanks to their highly publicized lifestyle, we've been about to keep account of all the times Kimmy transformed into "Keeks" in defense of her KarJenner sisters. 
Keep scrolling to see all the times the 5-foot-3 social media influencer proved she is an ultimate "ride or die" sister.
Kim Kardashian vs. Mike Fleiss: Khloe K. Is Definitely Not The Next 'Bacherlorette'

'Keeping Up With The Kardashians' has been a little tricky lately but Khloe Kardashian's big sis has no issue keeping us all updated on the drama.

Kim Kardashian is not here for any sort of reality show cross over for her sister. With the Tristan Thompson and Jordyn Woods cheating scandal being the most talked about drama this week, some people are finding ways to capitialize off of the First Family of reality television. After 'The Bachelor' creator, Mike Fleiss, claimed that Khloe and momager Kris Jenner were in talks for Khloe to be on the next season of ABC's 'The Bachelorette,' Kim was quick to shut him down. She had reciepts and everything ya'll!

Even Khloe felt it necessary to shut down the TV exec for associating her name with his show, but Mike seemed pretty adamant with this Kardashians X Bachelorette deal.

Kim Vs. Tristan Thompson (AGAIN): The Kardashian's Kick Jordyn Woods To the Curb And Banish Tristan

After news broke that Khloe's baby daddy was allegedly cheating, the Internet was shocked to find out his latest fling was with Kylie Jenner's BFF, Jordyn Woods. With Jordyn Woods going dark and Tristan Thompson claiming the information is "Fake News", everyone has been looking to the KarJenner clan to confirm the rumours.

All of Khloe's girls are rallying around her, like her best friend, Malika Haqq, seemingly confirming rumours by responding to social media posts about the cheating scandal and attending the PLT event in matching-BFF 'fits. Kim and Malika have no issues throwing shade at Jordyn by singing along to 'Don't Mess With My Man' by Nivea. Even Kourtney Kardashian seems to throwing shade with her recent Instagram post.

Kim Vs. Trolling Youtuber: Don't Meddle In Her Sisters' Relationships

Don't meddle in the KarJenner romances because Kim will come for you!

While some people believed that the photo was photshopped, others were skeptical considering the track record of men attached to the KarJenners.

Now, a Youtuber by the name of Christian Adam has come forward admitting that he staged the photos as a social experiment to see how quickly the Internet would respond.

In a 17-minute video, the Youtuber went through the process of dying his hair and taking multiple photos to make the photo as believable as possible.

"That photo that you see of Travis Scott allegedly cheating on his significant other Kylie Jenner was completely staged," Adam explained. "The goal of this video is not to hurt anybody's relationship, but it's to see how gullible is the internet. The question is: do the internet even care about the truth sometimes?"

Kim Vs. Tristan Thompson: Khloe's baby's daddy was close to experiencing a "Mayweather" knockout.

It's no secret that Kim has strong feelings towards Khloé Kardashian's baller baby's daddy, Tristan Thompson, thanks to his cheating scandal just days before she gave birth to her daughter, True.

Now we're all getting to see the behind-the-scenes of the ordeal on the new episodes of Keeping Up with the Kardashians, and we are shook by how Kim handled her frustrations.

On Sunday (Nov. 18), Khloé posted clips from the upcoming episode letting fans know just how serious Kim got.

"I was like, this will be like Mayweather and Pacquiao," Kim said in one clip before adding, "And I am Mayweather. So are you ready?"

In a second clip from inside the delivery room, Kim stated: "As much as I wanna go off, I just don't think it's the time. So I'm gonna keep it cute."

In response to her sister having her back, Khloé wrote on the clip: "Keeks I love you!!! I love getting to see moments that I missed in real time. Get him Keeks."


Kim vs. Lamar Odom: Khloé's ex-husband wasn't ready to be called out for his brothel ways.

After a failed marriage, Khloé's ex-husband, Lamar Odom, stated it was really over with Khloe "when she was with her second or third NBA ballplayer," while appearing on BET's Mancave. 

Kim Vs. Younes Bendjima: Kourtney's ex got called out as a lair for his "boy trip."

When photos surfaced on The Shade Room of the model getting cozy with another woman in Mexico, Kim wasted no time to respond to the post: "Nice pics from your 'boys trip'," along with a Pinnochio liar emoji.

Kim vs. Blac Chyna: Rob Kardashian's Baby's Momma landed on her "haters" list.

"I decided that for this Valentine's Day everyone deserves a Valentines," Kim shared on Thursday via her Instagram Stories. "I'm going to send them to my lovers, my haters, to everyone that I think of."

We are sure Chyna was on her "haters" list.

Kim Vs. Social Media: Don't ever come for her baby sister Kylie's "self-made" title.

Not about to let people slam her sister, Kim opened up to Refinery29 to set the record straight.

"I really didn't get it, because she is 'self-made' — we are all 'self-made,'" she proclaimed before adding, "what, because we came from a family that has had success? To me, that doesn't really make sense." 

She continued, "I know so many people like that haven't turned out to be as successful as Kylie. If anything, I've seen the complete opposite."