Commentary: The Pro-Poverty Policies of Union-Busting Mitch Daniels
In his rebuttal to President Obama's State of the Union address, Indiana governor Mitch Daniels slammed the White House's "pro-poverty" policies, which is ironic, coming from a leading anti-union politician.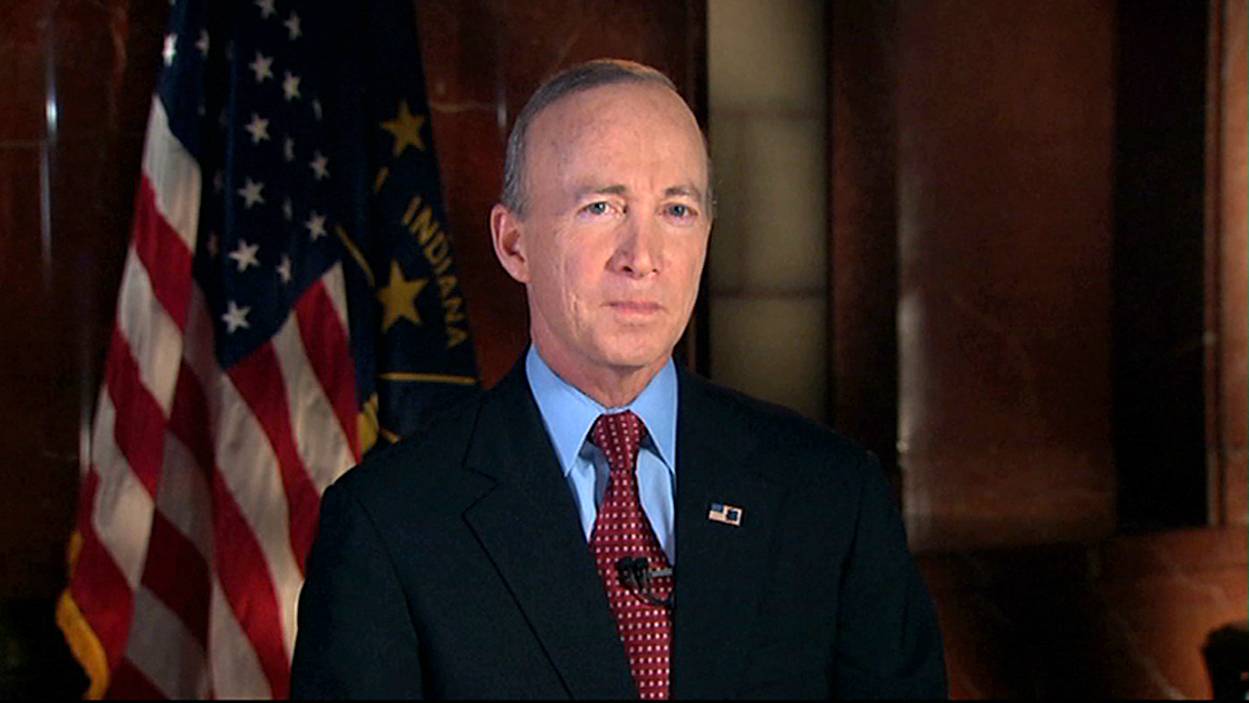 Daniels wasted no time slamming the President for a number of things, including halting the Keystone XL project, a move he called a "pro-poverty policy." These words faintly echoed the racist sentiments of fellow Republican Newt Gingrich, who has been calling Obama "the best food stamp president in American history." However, when it comes to calling anyone's political moves "pro-poverty," Mitch Daniels is not one to talk.
He and his fellow Indiana Republicans are currently engaged in a bitter battle with Democrats and labor leaders over a controversial right-to-work law. Under this law, unions would be barred from collecting dues from Indiana workers, thus effectively destroying organized labor in the Hoosier State.

Daniels' anti-union actions are patterned after several red states that have passed or are in the act of passing union-busting laws. Most notably is Wisconsin Governor Scott Walker, who railroaded anti-union policies into law in spite of the huge opposition from his constituents. Walker's reward for his political wisdom or lack thereof: One million Wisconsin citizens have signed a petition to recall the governor.
Gov. Daniels' action has drawn strong opposition from Indiana's Democratic lawmakers, who refused to attend legislative sessions when the bill was on the floor in order to prevent it from passing. Even his former friend and classmate, Leon Fink, opposes him, calling Daniels, "Scott Walker in velvet gloves." Nonetheless, the bill has cleared the Indiana House and is now slated for vote at the State Senate.   
Historically, labor unions have contributed to the good of the U.S. economy by insuring that corporations provide their workers a decent living wage and working conditions. The unions also exerted their political influence to force the government to pass laws that insured workers a minimum wage, time-and-a-half for overtime, and prevented the exploitation of children in the labor force. By weakening his state's union laws, Mitchell throws Indiana workers to the corporate wolves, who have no qualms about cutting wages and benefits, jeopardizing their safety, or firing them in a downsizing move to turn a quick profit.  
According to the AFL-CIO, states with right-to work laws (such as Mississippi, Alabama and Georgia) enjoy a higher poverty rate than states that don't have such laws on the books. This is especially true for African-Americans who saw their poverty level drop once they were allowed to join the labor unions. Given this, it would seem that if anyone's policies are "pro-poverty," it would be Governor Mitchell and GOP's anti-union right-to-work policies.  
The opinions expressed here do not necessarily reflect those of BET Networks.
BET Politics - Your source for the latest news, photos, and videos illuminating key issues and personalities in African-American political life, plus commentary from some of our liveliest voices.