Without Black People...Social Media Wouldn't Be As Influential
This month learn how impactful Black history has been on the world.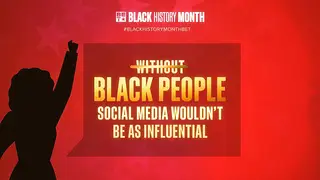 Anyone who wants to be seen and heard knows that these platforms are shaping opinions, informing the multitudes, and exposing all shades of shadiness. Social media outlets are making celebrities out of everyday people who have become influencers, created popular dance videos propelling old tunes and more obscure singles into big hits, and serve as informal gatekeepers of our stories.
Online apps are also the place so many go to know to find out what's hot, what's not, and what's going on. Despite pushback from a few racist trolls, Black people continue to click, like, follow, share, and post hashtags to let the world know among other things, the #oscarssowhite and that #blacklivesmatter.
For this year's Black History Month celebration, BET.com wants to reflect on just how much we'd miss out on if Black people across the diaspora did not participate on social media. Here's a snapshot of what the world would miss.
Without #BlackTwitter, There Would Be No Central Platform To Voice Our Concerns

Professor Meredith Clark, Ph.D. author of an upcoming book on #BlackTwitter described it best when she said Black Twitter is "Black people using Twitter and talking the way that Black folks do." One thing is for certain, for many African Americans and others who overstand, #blacktwitter is where the iconic blue bird turns brown. It is a virtual community where social inequality, feedback on everything from politics to television programs, and other issues of concern to people in the Black community are discussed. It's a place to "participate in continuous real-time conversations," says activist Feminista Jones, author of Reclaiming Our Space: How Black Feminists are Changing the World From the Tweets to the Streets.

African Americans use Twitter more than any other ethnic group. A force to be reckoned with, Black Twitter helped to kill a book deal for one of the George Zimmerman trial jurors looking to profit from Trayvon Martin's death. Movie producer/director Spike Lee warned anyone with thoughts of violating, "When Black Twitter gets on your black ass…ooh, it ain't no joke."

How it all began depends on who you ask, but what we do know is that in 2015, April Reign #OscarsSoWhite outcry for more representation at the Academy Awards, after all 20 acting nominations were given to white actors that year, forced the $42 billion movie industry to take heed. Four years later, 13 people of color took home awards. Although, it seems little has changed to diversify the efforts of the Academy's voting body.

Back in 2015, the #BlackLivesMatter movement rallied a new form of activism and made the online phenomenon impossible to ignore.

Without Enthusiastic Black Influencers, Social Media Would be Less Inspiring

Even though Ta-Nehisi Coates made a very personal decision to walk away from social media, taking his genius along with him, we still have online influencer and vegan foodie, Tabitha Brown available to feed our souls with her good humor and meatless recipes. Brown, who can now add Emmy-nominated actress and New York Times bestselling author to her credentials, has come a long way from her humble beginnings on TikTok rating vegetable-based dishes. Today, she has a net worth in the millions, seemingly one dollar for every follower, due in part to her recent vegan food & kitchen collection partnership deal with Target.

Ex-NFL football player Trent Shelton found his calling not on the field, but instead as a motivational speaker to the over 12 million people that follow him on Facebook coming to listen to his life changing mantras, and watch uplifting messages of hope and determination on his weekly podcasts and YouTube videos.

Without Those Who Support Our Mental Health Online, Everybody's Life Would Be More Challenging

With the tragic, sudden suicides of Stephen "tWitch" Boss and former Miss USA Cheslie Kryst, the stigma of getting help for mental health challenges in the Black community continues to be a concern. It's said, even Martin Luther King Jr. experienced severe depression, but refused to get assistance. Since racism continues to be a public health crisis, the percentage of African Americans who actually seek out mental health help is most likely much lower than the number in need of treatment.

With followers that number in the thousands, mental health social media outlets, like the Black Mental Health Alliance on Facebook, @TherapyforBlackGirls on Instagram, and BLKHLTH on multiple outlets, provide resources, encouragement, and relevant posts. They helped to keep us sane during social unrest and the pandemic lockdown and continue the mission even now.

Alex Elle, author and certified breathwork coach, is always vigilant about "not carrying the weight of the world" on her shoulders and encourages her 1.5 million Instagram followers to follow her lead. The self-care guru recently warned in an online article, "I think Black folks are conditioned to think that we always have to be strong. That we don't need anybody. And that is not healthy."

Without Online Dance Videos By Black Creators, We Wouldn't Have Great Dance Moves

 Do you know who created the Cuff It Dance Challenge? And no, it was not Beyoncé. Not many people are worried about who started these choreographed challenges while we're trying to get our arms and legs to move to the latest dance craze. However, it's no secret that Black creators of popular online dance videos don't always get credit for their moves. The Holy Moly Donut Shop, Cookie Shop, Mmmxneil and the Renegade have been popularized by folks who co-opted them on TikTok after seeing them on Dubsmashers or other less known apps, without giving credit where credit is due.

A popular TikToker was wrongly praised for creating the Renegade, one of the most viral dance trends to appear on the app, but in reality, Jalaiah Harmon, an Atlanta-based dance student, is the only person who should be getting credit for crafting this challenging routine. At 14-years-old, Harmon, posted her video on Funimate and Instagram, and shortly thereafter had quick fans in Michelle Obama, Lizzo and Ellen Degeneres, who invited her to perform the Renegade for a national television audience.

During the pandemic, when we looked here and there for answers, Fenómenos do Semba recorded themselves dancing to Master KG's "Jerusalema," an upbeat song with a spiritual bent, hard-hitting house beats, and lyrics we may not have understood, but nonetheless, could feel the joy behind the words. We were in the depth of COVID-19 despair, but the Jerusalema Dance Challenge, that began with Black people in Mother Africa spread like wildfire across social media to billions of people across the globe who accepted the challenge, and recorded their groups grooving to the sounds as well.

Without the Comic Relief of Black Comedians Online, There Would Be Less Humor in the World

You can lose a significant portion of your day, scrolling through videos showcasing the addictive stylings of Black comedians, Desi Banks @iamdesibanks, Jasmin Brown @watchjazzy, and of course, comedian-turned-actor Chris Tucker. No longer relegated to the chitlin' circuit, Black comedians continue to find fame on social media.

Insecure's Issa Rae managed to successfully leverage her own 2011 Kickstarter-funded YouTube series, The Misadventures of AWKWARD Black Girl, into a five-season, Emmy-nominated-and-awarded series on HBO.

But most recently, 22-year-old Khabane "Khaby" Lame has become the most followed person on TikTok, with over 150 million followers. His simple shrug to ridiculous life-hack videos and deadpan, nonverbal reactions have made this former factory worker into an international celebrity, who makes millions of people laugh, without saying one word.

You may recognize comedian Zoie Fenty from Wild 'N Out, but he's probably better known for his funny G-rated responses to children's escapades and very often raw R-rated storytelling on YouTube and all across the online world. Iamzoie has 6.5 million followers on Instagram, 2.8 million on Tiktok, and thousands of likes, comments, and hundreds of shares on Facebook. If you've never heard of him "Friend," as he would say, then "Call me back!"

Happy Black History Month! Come back next week as we take a look at what could have happened without Black people's contributions to American politics.