Sen. Tim Scott Raises $37 Million For Senate Reelection Bid
There are rumors he will run for president.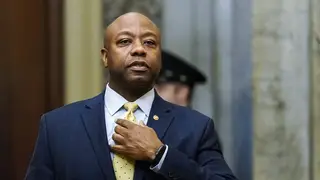 Rumors abound that South Carolina Sen. Tim Scott will run for president in 2024. Considering the amount he has raised in his Senate reelection bid, that appears to be a possibility.
According to Fox News, Scott, 56, has received over $37 million in donations in 2021 for his Senate race in the 2022 midterms. Sam Oh, Scott's campaign consultant, told the right-wing media outlet,  "Senator Tim Scott has built an unmatched grassroots network of supporters that will power him to another term in the Senate."
Sen. Scott, the only Black Republican in the Senate, has not supported voting rights acts nor the George Floyd Justice in Policing Act, which he said defunded police when the bill actually increased funding to police. Scott also did not support the January 6 commission, which is investigating last year's insurrection that included a Confederate flag being carried in the U.S. Capitol.
Scott, who was first elected to the Senate in 2013, was the first Black American to become a senator in the South since Reconstruction.