Cornel West Calls Biden 'Architect Of Mass Incarceration' During 1990s
The third-party presidential candidate blames legislation Biden championed as a senator for the prison warehousing of Black men for drug crimes.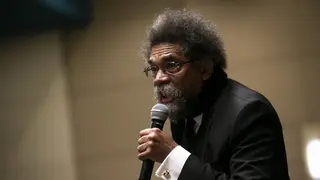 Progressive activist and scholar Cornel West, who is running a third-party presidential campaign, blamed the crack epidemic-era crime bill President Joe Biden pushed as a senator for the mass incarceration of Black people.
"Well, I think you'll think Joe Biden contributed to a crime against humanity when he became the architect of the mass incarceration regime in the 1990s," West told The New York Post in an interview, referring to the Violent Crime Control and Law Enforcement Act of 1994.
"I've taught in prison for 41 years. And the level of barbarity in our prisons has something to do with that crime bill that he put forward," said West, 70, a former professor at Yale, Princeton and Harvard who now teaches at Union Theological Seminary.
Former President Bill Clinton signed the crime bill that provided for 100,000 new police officers and allocated $9.7 billion for prisons and $6.1 billion for prevention programs, according to the U.S. Department of Justice. It's the largest crime bill in the nation's history.
Whether the legislation caused mass incarceration is a hotly debated issue. Stephen Ross Johnson, a board member of the National Association of Criminal Defense Lawyers and past president of the Tennessee Association of Criminal Defense Lawyers, told USA Today in 2020 that it is "over simplistic" to say the 1994 crime bill led to mass incarceration. Johnson said the 1994 crime bill was "a link in the chain" of federal legislation that goes back to the late 1960s and early 1970s in the war on drugs.
During his presidential campaign in 2019, Biden apologized for portions of his anti-crime legislation and has downplayed his involvement in pushing the bill through Congress, The New York Times reported in 2019. Biden said he "got stuck with" guiding the legislation because he chaired the Senate Judiciary Committee at that time. However, The Times' investigation found that his "current characterization of his role is in many ways at odds with his own actions and rhetoric."
In 2019, the Biden campaign sent a statement to The Times that said the then-presidential candidate had "fought to defeat systemic racism and unacceptable racial disparities for his entire career," and that he "believes that too many people of color are in jail in this country."
In the statement, Biden vowed as president to "fight to put an end to mandatory minimums, private prisons and cash bail, and he would support automatic expungement for marijuana offenses because he believes no one should be in jail for marijuana."
West announced his 2024 presidential bid on June 5 as a candidate with the People's Party. On June 13, West announced that he's seeking the Green Party nomination "in the spirit of a broad United Front and coalition strategy," he tweeted.
He continued his attack on Biden giving him a lackluster grade for his performance, saying that "Black folks are low priority" to the president and even alluded to doubts of Biden's ability to hold office.
"It's very clear that his cognitive powers are in decline," said West.
"In 2016, the Green Party played an outsized role in tipping the election to Donald Trump. Now, with Cornel West as their likely nominee, they could easily do it again. Risky business," Axelrod tweeted.