Say What?!? Rapper Monaleo Alleges Uber Driver Stole Her $1,000 Wig
After she called him out on social media, she alleges it was returned to her.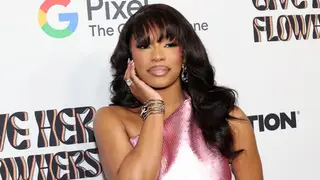 Monaleo has a bizarre story about an expensive wig and a handsy driver.
Earlier this week, the "Beating Down Yo Block" rapper put an Uber driver on blast for allegedly stealing her $1,000 wig, as reported by The Shade Room. IKYFL! According to her, the prized Wig was expected to be used in preparation for her new tour.
If you want to get someone's attention, you go straight to social media, and that's exactly what she did.
"Dear M***** aka wig thief why ** would u steal a $1,000 wig the day before my tour starts. U will begin to cough in 3 days!!!! It's okay tho — always got me covered," she began in the caption of the post on Instagram.
"But wowwwwww that's so crazyyy I was gone let it go because maybe something happened in the 5 minutes that you got the package and drove to the address but I'm actually pissed," she added.
She also said looks for the tour were planned "to the T weeks ago, and now we pivoting." 
"Something bad always happens before the blessings roll in tho," she explained.
After the rapper name-dropped the driver on the app, it appears he returned the wig.
Still, Monaleo missed her appointment to get the wig installed. A miracle must have been the prayer because stylist Jevon Branch came through for our girl. He posted an Instagram Story of her on stage, wig intact.
The whole ordeal was unnerving for the star. 
"The way I was at home PISSEDDDD off tryna figure out how I was gone wear my hair to the tour tmr like omg this is too much. 
Aside from wig-gate, Monaleo sold out the first tour of her show in Chicago. Now that's how you come back!
In May, she welcomed a baby boy, whom she shares with rapper Stunna 4 Vegas.