Report: Alexis Skyy Is Pregnant With Fetty Wap's Baby
What does Masika have to say about this?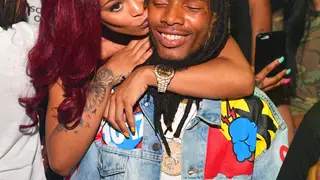 Congrats may be in order for Love & Hip Hop Hollywood newbie Alexis Skyy and her on-again off-again boyfriend Fetty Wap
According to The Shade Room, the pair are expecting a child together. News of their reunion comes as the former lovers were rumored to be working things out. The aspiring singer recently posted several Snapchat pics at Fetty Wap's house, and they even followed each other on Instagram.
While Alexis and Fetty have yet to address rumors, Alexis' sworn nemesis Masika Kalysha, fellow L&HH: Hollywood star and mother of Fetty Wap's daughter, alluded to news of a pregnancy on Twitter.
The reality starlets have been embroiled in a social media beef for the past two years. Alexis Skyy is apparently still mad that Fetty Wap cheated and conceived a child with Masika. She even went as far as getting her tattoo of his name removed.
Fetty Wap appears to be #TeamMasika, as she recently posted a series of text messages he sent in support of her.
We're not sure where this baby news leaves this messy love triangle, but we're sure we'll find out soon.
See more celebrity news with BET Breaks, above.