BET Awards 2023: Experience Doechii's Music With These Unmissable Tracks
Doechii took the 2022 BET Awards stage by storm with her electrifying performance of "Persuasive" and "Crazy."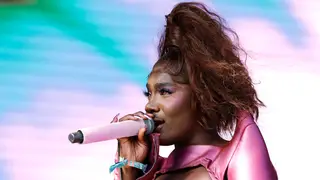 Doechii is of the hottest rising star out right now; thanks to her buzzworthy tracks have been taking the industry by storm. With a style that seamlessly blends trap, pop, and R&B, this Florida native's music is just as captivating as it is unique. From her hard-hitting debut "Yucky Blucky Fruitcake" to the sultry "Take It Down Low," Doechii's discography is a must-listen. Doechii wowed viewers during her performance of  "Persuasive" and "Crazy" on the main stage at the 2022 BET Awards, and ahead of this year's show, it has us wanting to scroll down her discography.
So don't miss out on the next big thing and see why everyone is talking about Doechii.
"What It Is (Block Boy)" feat. Kodak Black

"What It Is (Block Boy)" is the latest record from the multitalented artist who called on fellow Florida native Kodak Block for the hip-hop and r&b inspired record.  The music video has over six million views on YouTube.

Crazy

Yucky Blucky Fruitcake

The rising star found breakthrough success with the release of her 2020 single "Yucky Blucky Fruitcake." The record would later lead to her signing a deal with West coast based record label Top Dawg Entertainment.

Persuasive

"Persuasive" was the first single from Doechii under a major label, TDE. The track seamlessly blends the sounds of house and hip-hop music and became a huge success.  Taking advantage of their popularity, she later released a remix with fellow labelmate SZA.

Isaiah Rashad - Wat U Sed ft. Doechii & Kal Banx

Doechii stole the spotlight with her verse on Isaiah Rashad's "Wat U Sed," from the latter's third studio album, The House is Burning.