Tatyana Ali Speaks Out On Janet Hubert Addressing Colorism In 'Fresh Prince' Reunion
The actress also reveals her own experiences on race and skin color within Hollywood.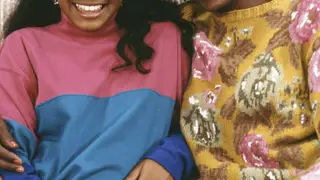 One of the most powerful moments from The Fresh Prince of Bel-Air reunion was Janet Hubert, who played the original Aunt Viv, reconnecting with Will Smith after their falling out and years of estrangement. Referring to her getting fired off of the show and replaced by another actress, Hubert told Smith, "Calling a Black woman difficult in Hollywood is the kiss of death and it's hard enough being a dark-skinned Black woman in this business."
Actress Tatyana Ali, who played Viv's daughter Ashely Banks, recently opened up about that emotional moment from Hubert and discussed her own experiences with colorism.
While promoting her new film The Reason, which hits streaming services on Dec. 15, on SiriusXM Urban View's The Clay Cane Show, Ali addressed Hubert's powerful words,"I didn't know that she felt that way. When we were working on the show together, we always talked about how beautiful she was."
She continued, "I hope that she knows, for me as a young girl, I saw her with a spotlight on her and that's how I thought she was being represented on the show. In terms of beauty and Black beauty, as a young Black child. I thought she was radiant. I thought the spotlight was on her and that was something that I wasn't used to seeing."
Ali also added, "I didn't get a chance to tell her that at the reunion, but if she hears that, I hope that gives her some comfort that for the things that she went through, she meant a lot to a lot of people -- to young people."
The 41-year-old also addressed her experiences with colorims, especially in the audition process, saying, "In life and in work for sure. You know, 'Why don't you just make it a little Blacker?"
Additionally, she commented on the backlash she received when she participated in the 2015 documentary Light Skin Girls. Ali said she did not know she would be categorized as "light-skinned" and wasn't even aware the stories would be split into dark and light-skinned girls.
"It was disappointing to me. I really thought that I could speak on dark-skinned girls or light-skinned girls. Just like, I think a light-skinned girl can talk about — because it's not real, we're all Black women. We're all women under an experience, having an experience of what it's like to be cast into these categories. I thought that was disappointing that we were separated in the project itself. And I don't know who decided what category I was supposed to be sorted into."
Watch a clip from the interview below: