Howard University Among HBCUs With More Black Students Than All Eight Ivy League Colleges
The Bisons currently have 5,916 Black undergraduates enrolled.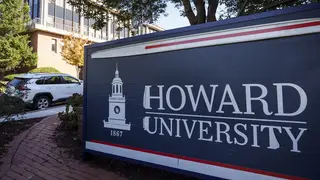 Of the 103 HBCUs in the country, Howard University has more Black Students enrolled than all of the Ivy League institutions combined.
According to Forbes, Howard currently has 5,916 Black undergraduates enrolled which tops 5,063 of  68,968 undergraduate students at all the Ivy League schools. Following Howard with the most Black students enrolled are Florida A&M, Morgan State, North Carolina A&T, Prairie View A&M, Southern, and Tennessee State – each of which boasts more Black students than the eight Ivy League schools.
The report also states that because of the Supreme Court's decision on Affirmative Action, Ivy League universities and other highly-selective schools such as the University of Chicago, Duke, Northwestern, and MIT will have even fewer Black students now that race-based admissions are illegal.
The University of Southern California, another highly-selective private institution that is consistently ranked in U.S. News & World Report's Top 50 National Universities only accepted 9.9%  of the 80,790 students who applied. Of those accepted, Black students made up 13% of the incoming class which is the largest in the history of USC in a state that outlawed Affirmative Action in 1996 with Proposition 209.
Zack Mabel, co-author of the Georgetown University Center on Education and the Workforce study argued that with our race-based admission criteria, the number of Black students at highly selective schools will dwindle.
"Without race-conscious admissions, the role selective colleges play in creating equal opportunity in our society is likely to diminish,"  Mabel said.
The court has effectively ended affirmative action in college admissions and I strongly, strongly disagree with the court's decision because affirmative action is so misunderstood," Biden said.
Biden urged schools not to abandon their commitment to diversity and offered "guidance to our nation's colleges" in the aftermath of the court's ruling and suggested that colleges consider the adversity faced by qualified applicants which includes "their family's lack of financial resources, the quality of their high school and the racial discrimination they had to overcome."
"Discrimination still exists in America," Biden continued. "Today's decision does not change that. It's a simple fact that if a student had to overcome adversity on their path to education, the college should recognize and value that. Our nation's colleges and universities should be engines of expanding opportunity through upward mobility."