Pat Houston on Whitney: 'She Fulfilled Her Purpose in Life'
Pop icon's sister-in-law talks Whitney Houston Live: Her Greatest Performances.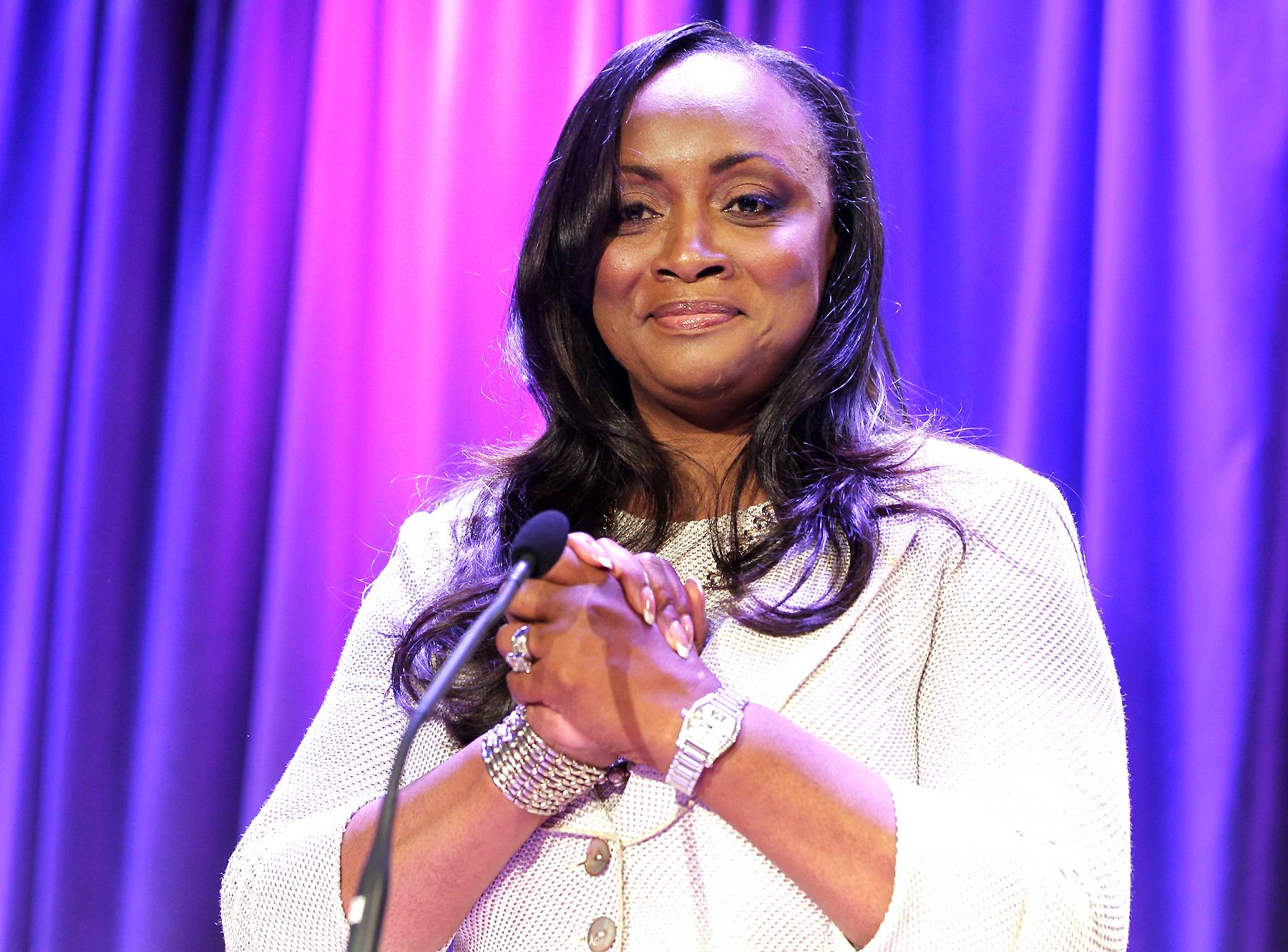 The legacy of Whitney Houston casts a long shadow, and nobody knows that better than Pat Houston. The late pop icon's sister-in-law and president of Whitney's estate is — along with Clive Davis — the force behind Whitney Houston Live: Her Greatest Performances. The DVD and CD compilation of Houston's best live shows is a testament not only to her enduring power as a singer, but as a stage performer. 
We chatted with Pat Houston about preserving Whitney's memory, her thoughts on the unauthorized biopic (directed by Angela Bassett) currently in the works, the family's ill-fated reality show and much more. 
Whitney is known as the voice of her generation, but people forget she was great as a live performer. How would you describe her stage presence?
She wasn't the type of performer to go on stage just to sing. When she went out, she took her entire being with her. When she performed, she gave you her best. She sang with great conviction, just like her mother [Cissy Houston]. It wasn't just a performance, it was her life. She loved doing live performances. 
Was it bittersweet going through the footage?
Definitely. When we were putting the DVD together, I would go up to see Clive [Davis] and we would sit in his office, order lunch, go over the song list and watch the live shows. It was one of those things, we were both so used to Whitney being there. She was always the person to have the final say about her projects. It was bittersweet, but we did what we needed to do.
Can we expect more unreleased material?
I am really hoping and wishing for a duets album. It's something Whitney and I spoke about when she was alive and I want to make sure it happens. Any and everything she wanted to do, I want to make sure that we do it. There are many things that I would consider. I would love to see a Broadway play on Whitney's life, with Brandy Norwood playing Whitney. Brandy would be perfect on Broadway playing Whitney, in my opinion. But everything is about timing. I would only do something that I know Whitney would want to happen.
Speaking of Whitney's life story, there's a Lifetime biopic in the works. Are you supportive of it, or against it?
I'm not for it. Lifetime — not Angela Bassett — but Lifetime did come and ask for our participation in the biopic, and we said no. They chose to move ahead with the project. You can't stop people from doing what they want to do. I would have hoped that people would have enough respect that when the estate said no to a project, they would stand down. But they didn't. I hope it takes them where they need to go.
How does it feel with Angela Bassett directing the film, considering she was friends with Whitney?
They were not friends, they worked together. I haven't spoken to Angela, you know what I'm saying? It's hard to answer that question because I'm not going to beat up another sister, I refuse to do that. Whatever her reasons are for doing the project, she has to live with that, and I guess she can. But it's something that we did not agree to doing, and I have to leave it at that. If Whitney were here today, this project would not be happening, let's just leave it at that. How can you do a biopic without all the necessary information? I mean, really?
How do you feel about Deborah Cox singing Whitney's vocals for the film?
I hadn't read anything about Deborah Cox singing Whitney's vocals. Maybe she's friends with Angela? I don't know. Wow. If you have to sing someone's vocals for a film, especially Whitney Houston, I don't think I would. Whitney is a true pop culture icon. I don't understand the reasoning behind it. I, personally, think it's quite strange. But everyone has their reasons to do what they do. 
Your family did a reality show soon after Whitney's death. Despite your best intentions, do you have any regrets about that?
There were no regrets…it was a situation where, with the Houston family, the visits were few and far between. We hadn't been able to spend a lot of time with Cissy because of work and our lives, Cissy hadn't been able to spend a lot of time with her granddaughter [Bobbi Kristina], just the family being together. We thought it would be a fun thing to do. We had just lost a loved one and wanted to spend more time together. It just didn't work. I'm glad that we didn't do a second season. It feels good to have normalcy, and you can't have that if everyone is always in your business. 
Speaking of Bobbi Kristina, how is she doing? Are you in touch with her?
Krissy's doing good. I speak with her all the time, if not a telephone conversation, we're texting. She's just a 21-year-old who wants to do her own thing. I'm giving her the room to do that. I'm a very non-intrusive person, but she knows if she needs Auntie Pat, I am right there. She's working out a lot, as she says, getting her body in shape. She's becoming a workout-aholic. She's trying to adjust to the new life she has without her mother, and that takes some time. She's coming along.
If Whitney were here today, what would she say about this album and DVD?
She would sit back and look at some of the footage and say, "wow! I looked like that? That was me?" She would be humbled by the experience to see how she developed from that church girl in the choir to performing in the clubs with her mother, to singing on albums for people like Chaka [Khan]. She had a very humble spirit as it relates to her craft. She fulfilled her purpose here in life, which is to give us what she gave us. Her memory is her music.
Whitney Houston Live: Her Greatest Performances comes out November 10.
Watch Kevin Hart in a new episode of Real Husbands of Hollywood every Tuesday, 10P/9C.
BET.com is your #1 source for Black celebrity news, photos, exclusive videos and all the latest in the world of hip hop and R&B music.
Click here to subscribe to our newsletter.

(Photo: REUTERS /FRED PROUSER /LANDOV)