Oprah Winfrey Tosses Out Half Of Gayle King's Birthday Cake To 'Reset' Her Diet For The New Year
The media mogul is kickstarting her year eating healthy with WW.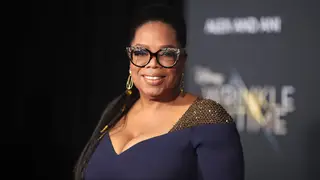 Oprah is hitting the reset button on her diet for 2022. The media mogul shared a video to Instagram tossing out her dear friend Gayle King's 'two-week-old' birthday cake. 
"Time for a reset, clearing out the fridge. You know, we had 12 people over for the holidays, and all stayed safe from COVID, thank god, and I gotta say we ate every day like food had just been invented," Winfrey, 67, began the video. "So clearing out the fridge, no chance of one last piece of Gayle's delicious Bananas Foster birthday cake."
In the minute-long clip, which has amassed over 2.5 million views, the media mogul is seen removing the cake from her fridge and dumping it out in a trash can.
Winfrey also promoted WW (Weight Watchers,) the popular weight loss program for which she is a spokesperson and director, before encouraging followers to "let today be our day one."