Damar Hamlin Visits Buffalo Bills After On-Field Collapse
The Bills safety had to be resuscitated on the field during a January 2 game against the Cincinnati Bengals.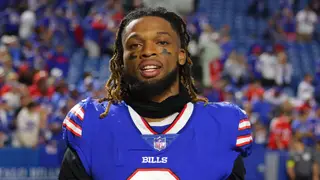 Bills linebacker Matthew Milano shared a photo of his teammate Damar Hamlin visiting the Buffalo Bills training facility less than two weeks after suffering a cardiac arrest during a game against the Cincinnati Bills earlier this month.
In the photo the 24-year-old NFL star is dressed in a gray sweatsuit and seen smiling as he greets his teammates, according to People.
ESPN] reports that Brooke Kromer, daughter of Bills offensive line coach Aaron Kromer, tweeted that Hamlin was at the facility. "I saw Damar today & bawled my eyes out! What a miracle to see him walking," she wrote.
The report adds that Bills coach Sean McDermott said on Wednesday (January 11) that he is "obviously grateful first and foremost that he's home and with his parents and his brother, which is great."
McDermott added, "I'm sure it has felt like a long time since he's been able to be home. I'm sure it's a great feeling and, we'll leave it up to him. His health is first and foremost on our mind as far as his situation goes, and then when he feels ready, we welcome him back as he feels ready."
Hamlin was treated at the University of Cincinnati Medical Center after suffering the cardiac event mid-game. He was later flow to the Buffalo General Medical Center/Gates Vascular Institute where he spent two days. Hamlin thanked fans and the NFL community last weekend for the support he received as he recovered. "Putting love into the world comes back 3xs as much… thankful for everyone who has reached out and prayed," Hamlin tweeted. "This will make me stronger on the road to recovery, keep praying for me!"