NAACP President: Racial Wealth Gap 'Greatest Barrier' To Achieving MLK's Dream
Derrick Johnson urges passage of student debt relief legislation as a tool to address the racial wealth gap.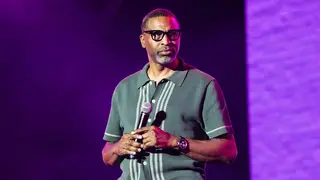 The economic struggle continues for Black Americans decades after the death of Dr. Martin Luther King Jr. in 1968, according to NAACP President and CEO Derrick Johnson.
"From voting rights and police reform to the ongoing fight for economic justice, there is much work left to be done to fully realize Dr. King's dream. Today, the racial wealth gap in America continues to be the single greatest barrier to realizing Dr. King's dream," Johnson said Sunday ahead of the King holiday, according to The Hill.
Forbes reported that middle-class Black families back in 1968 had an average household wealth of about $6,600 compared to about $71,000 for white middle-class households, adjusted for inflation.
By 2016, the Brookings Institution pegged Black family net worth at $17,150 compared to $171,000 for their white counterparts. Income disparity isn't the only issue. White families tend to have greater wealth than Black families with similar income levels.
"Two households can have the same income, but the household with fewer expenses, or with more accumulated wealth from past income or inheritances, will have more wealth," the report stated. Intergenerational wealth is one key difference. White families receive much larger inheritances on average than Black families."
Speaking at an event honoring King in 2022, Yellen said, "From Reconstruction, to Jim Crow, to the present day, our economy has never worked fairly for Black Americans -- or, really, for any American of color."
Johnson called on elected officials to pass student debt relief legislation as a tool to address the wealth gap.
The Congressional Black Caucus has framed the student debt disparity as "a racial and economic justice issue," urging the Biden administration to implement a "broad-based" approach to the $1.7 trillion student loan debt crisis. Black borrowers are burdened with a disproportionately high amount of federal student debt.
"As we look to the new year, the NAACP will continue to push forward in the fight to cancel student debt, champion efforts to dismantle white supremacy, and ensure justice for all," Johnson said.