Mary J. Blige's Billboard Music Awards ICON Award Speech Was Emotional And Relatable
"I was ghetto fabulous and I still am! So ghetto, so fabulous, and people were threatened by that. And now everybody want to be ghetto fabulous."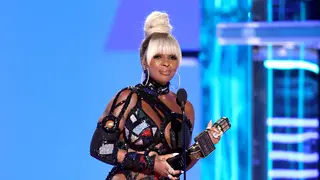 Legendary R&B singer Mary J. Blige cemented her icon status at the 2022 Billboard Music Awards on Sunday (May 15) after receiving her ICON Award presented by Janet Jackson.
As one of only 11 artists to be awarded the distinguished honor, Blige gave an emotional and powerful acceptance speech where she shared what being an "icon" meant to her.
"The way the world is now, I think people think icons are born that way, that they become a legend overnight, but that is definitely not the case," the award-winning entertainer said. "It takes a lot of time, hard work, and a lot surviving, trial and error, to achieve greatness."
"What an icon means to me is overcoming obstacles to accomplish the unthinkable and be widely admired for having influence over a multitude of people, and that is what I've always represented," she continued. "I've been on this journey for a long time. One that didn't always look the way you see me now. One that was filled with a lot of heartache and pain. But God helped me to channel those experiences and emotions into my music."
From winning the R&B Album of the Year award back in 1995, to taking home nine awards at the 2006 show including Female R&B/Hip-Hop Artist of the Year; Hot 100 Airplay Song of the Year; R&B Albums Artist of the Year; R&B/Hip-Hop Album of the Year; R&B/Hip-Hop Artist of the Year and more, Blige has earned her icon status.
"I was ghetto fabulous and I still am! So ghetto, so fabulous, and people were threatened by that. And now everybody want to be ghetto fabulous," Blige added. "The message of my music has always been that we are not alone in our struggles and I'm not alone now. For so long I was searching for real love, but I finally found my real love -- and that real love is me."
The singer has had 14 top-10 Billboard 200 studio albums, four Billboard Hot 100 top-10 singles as a lead artist in the United States, and has had a total of 16 top-40 charting singles in the United States.
Past ICON award recipients at the Billboard Music Awards include Janet Jackson, Prince, Stevie Wonder, Mariah Carey, Jennifer Lopez and more.
Watch Mary J. Blige's ICON Award acceptance speech below: