Ciara Defends Vanity Fair Oscar Party Naked Dress
The singer and mom of three is unbothered by the backlash she received when she wore the see-through dress to this year's Vanity Fair Oscar party.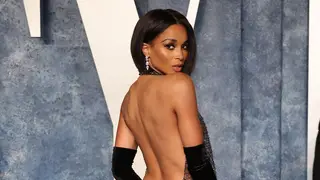 Ciara is a woman on a mission. Whether it's being a mom to her three kids, a supportive wife, an award-winning pop star, or a budding entrepreneur--the 37-year-old star is unbothered by what she calls "selective outrage."
In an interview with LVR, Ciara talked about being singled out for the dress she wore to the 2023 Vanity Fair Oscars party which had "naked" as the theme--she wore a sheer dress designed by Dundas.
"I was fitted for the dress in Paris as I attended the Dundas show. Peter has been a close friend since we attended the Met Gala in 2021. He knows me well, and he gets and knows the woman's body. I love the concept with the black crystal versus white crystals; I loved the black sheer and combination of it all and seeing it on the runway. It's a process of getting ready for the red carpet. I pay attention to every detail. I have an appreciation for the art of fashion and the vision of the artist who created the garment," she declared unapologetically.
The interview comes as Ciara is getting ready to launch OAM by Ciara, a clinical skincare line.
She told LVR that the idea for the business came to her during the lockdown of the coronavirus pandemic. "I was pregnant with my third child, Win, and I created a few businesses to entertain myself," she explained, adding, "I was a good muse, since being pregnant is a sensitive space—the way it impacts the body."
She said that when it came to her own skincare, she didn't always follow the good advice she was given by her longtime make-up artist, Yolonda Frederick-Thompson "I didn't always take it to heart or follow through. Then I got to a point and noticed how she looks: she takes care of herself, and it shows. Putting that effort into self-care for your skin is important, so I became laser-focused."
Along with Frederick-Thompson, she tapped Jamira, aka JC Johnson, a former chemical engineer at MIT, and  board-certified dermatologist Dr. Tiffany Libby. Topiderm Pharmaceuticals has been retained to formulate the OAM Skincare collection. [LINK]
"Choosing the team was intentional. JC brings tremendous value with her business knowledge and passion for the product. Dr. Libby fact-checks and shares knowledge as we grow, and having a chemist for formulations and Yolonda, who knows my skin better than anyone, is important—she loves skin, studies it, evolves with it and gets it. She has an amazing experience with people in general, and she shares her knowledge—but also empowering women was important to me, to us girls on a mission to do great work."
Ciara and her husband NFL great Russell Wilson also recently launched another venture, The House of LR&C, is also gaining traction. The sustainability-focused platform houses three in-house brands: Good Man, Lita by Ciara and Human Nation, sold on its website and through various retail pop-ups. [LINK}
"We believe in the power of words," she said of the brand. "Words carry weight, and a name is important. Russ and I were on the plane and wrote down words that meant something to us. Love, Respect and Care were the words that stood out to encapsulate what the brand would be."