Yeehaw!: See How The Black Cowboy Aesthetic Inspired Major Pop Culture Fashion Moments
Lil Nas X, Destiny's Child, Megan Thee Stallion, and more!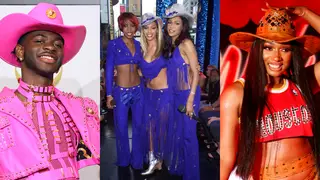 For many of us, Western Cowboy Culture has always been associated with White Americans and movies such as Indiana Jones, Broke Back Mountain, City Slickers. Still, some may not know that there is a legacy of Black Cowboys in America. Historians state that 1 in 4 cowboys was Black. 
The history of the black cowboy has mostly been erased from American culture, however in recent years, we've been seeing an influx of Pop Culture phenomenons paying homage to the Black Western aesthetic.
Western cowboy hats, chaps, cow prints, rhinestones, suede outfits, and fringe head-to-toe is now seen on the hottest celebrities, and in 2019 Lil Nas X took it to a different level. His "Old Town Road" hit went number one on Billboard within weeks, and the 21-year-old Atlanta native took home two Grammys for his song. He rolled up to the 2019 BET Awards on a horse and performed alongside Billy Ray Cyrus, wearing a yellow leather fringed look with a matching cowboy hat. Talk about swag!
In 2000, Houston native Beyoncé and Destiny's Child represented their roots with Western-inspired looks. And recently, "Houston Hottie" Meg Thee Stallion showed off her perfect curves donning leather chaps for a performance. 
There are also more Black Western-inspired movies taking over Hollywood. Netflix released a new film, Concrete Cowboy, starring Idris Elba and Caleb McLaughlin, based on the novel "Ghetto Cowboy." The movie aids in bringing to light how Cowboys are deeply rooted in Black culture and Black history.
Although Black Cowboy culture looks like it's on the rise, it has persisted for some time. Today, an organization of black community leaders in California called Compton Cowboys had blazed a trail by preserving the history and legacy of the black cowboy while also providing guidance to Compton's youth and keeping their communities safe. And Black-owned fashion brands such as Pyer Moss and Telfar continue to pay homage to the Black Cowboy figure through their designs. 
Take a look below at some of the significant fashion moments that Black Cowboy Culture inspires. 
Destiny's Child

Megan Thee Stallion

Lil Nas X

Solange

cardi b