A 15-Year-Old Is Shot Near Obama's Chicago Home
The death of Cornelius German was one of nine shootings in a 24-hour period in Chicago.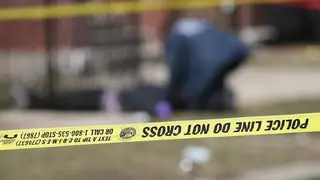 Once again, the gun violence that has become a national topic has struck in President Obama's hometown, with a 15-year-old student being shot and killed just a few blocks from the president's home.
The killing of Cornelius German on Monday evening was just one of nine shootings that took place in Chicago in a 24-hour period, including four men who were fired upon while standing in front of a home in a South Side neighborhood.
In the aftermath of the killings at the Sandy Hook Elementary School in Connecticut, the level of gun violence in Chicago has become a national story. In 2012, the level of shootings had risen to a level far beyond the previous year. And shortly after the new year, the city was rocked by the shooting of a 15-year-old honors student, Hadiya Pendleton, who was killed by gunfire a week after she performed with her high school band at inaugural festivities for President Obama. Michelle Obama attended the funeral.
According to news reports, relatives of Cornelius said that the teenager was spending time with friends in the backyard of a home when a dice game ended around 9:30 p.m. Monday. Gunfire erupted and Cornelius was hit in the back and killed.
Some young Chicagoans have suggested that, rather than a cause for continued handwringing, the numbers in the city's gun violence tabulations should fuel a discussion about the needs of young people in America's third-largest city.
"The conversation needs to be less about gang violence as though these kids are not people," said Malcolm London, a 20-year-old teaching artist with Young Chicago Authors, in an interview with BET.com.
"I believe in the expression that states that hurt people hurt people," London said. "I think the conversation needs to be about the lack of jobs, the lack of resources in the communities where the gangs are, the non-funding and underfunding of our high schools, the militarism of the police force in this city. Those are places to start the conversation."
Natasha Marshall, a 15-year-old high school sophomore, said hearing the statistics about gun violence in her hometown fuels her with a desire to be more cautious and to find ways to affect the situation.
"Of course, it makes me think more about my own safety but it definitely makes me want to do something about it," she said, in an interview with BET.com. "I'm just not 100 percent sure of how to do it. But I definitely want to do something. I'm not nonchalant about this."

BET National News - Keep up to date with breaking news stories from around the nation, including headlines from the hip hop and entertainment world. Click here to subscribe to our newsletter. 
(Photo: Scott Olson/Getty Images)