Radiant Waves Festival 2022: Charlie Wilson, Ari Lennox, And Musiq Soulchild To Headline
Pack your bags because fans will be traveling from Miami to the Bahamas for this special event!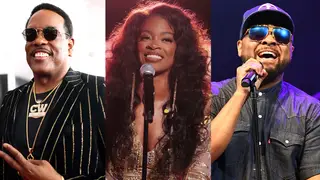 Charlie Wilson and Ari Lennox will headline a new R&B music festival coming Jan. 2023.
According to VIBE, the Radiant Waves music festival, in partnership with Rolling Out and Sixthman, will be "the global leader in immersive destination festivals." Taking place from Jan. 16-20, 2023, on the Norwegian Pearl while it travels from Miami to the Bahamas.
In addition to Wilson and Lennox, Musiq Soulchild, Baby Rose, BJ The Chicago Kid and more are also slated to perform.
"​​Our mission in launching Radiant Waves is to highlight both legends and contemporary artists on the same stage for fans on vacation," said Anthony Diaz, CEO of Sixthman, in a statement.
"To do so with Charlie Wilson and Ari Lennox is a dream come true. We could not be more excited to welcome them both and the entire line-up of talented artists aboard, along with their most passionate fans."